Hamburgs Schriftschätze
Neue Fragen an alte Manuskripte
5. Juli bis 2. Oktober 2023
Montag bis Freitag 9:00 – 24:00 Uhr; Samstag bis Sonntag 10:00 – 24:00 Uhr
Ausstellungsraum der Staats- und Universitätsbibliothek Hamburg Carl von Ossietzky
Eine 4000 Jahre alte Quittung für Mehl, in Keilschrift in Ton geschrieben; ein vollständiger Koran, nur wenige Zentimeter groß; ein hektisch überarbeitetes Soufflierbuch, das im Mittelpunkt eines berüchtigten Theaterskandals stand. Schriftartefakte begegnen uns in unzähligen Formen, und jedes besitzt seine eigene Geschichte.
In enger Kooperation mit der Staats- und Universitätsbibliothek Hamburg Carl von Ossietzky zeigt das Exzellenzcluster "Understanding Written Artefacts" anhand außergewöhnlicher Schriftartefakte, wie historische Kontexte erschlossen und überraschende Verbindungen zwischen verschiedenen Schriftkulturen entdeckt werden können und wie Geistes-, Natur- und Computerwissenschaften dabei zusammenspielen.
Die Geschichten hinter den Artefakten in der Ausstellung lesen Sie hier, im zweisprachigen Onlinekatalog.
Written Treasures of Hamburg: English Catalogue
A 4000-year-old receipt for flour, written in cuneiform in clay; a complete Qur'an, only a few centimetres in size; a hastily revised promptbook that that played a key role an infamous theatre scandal: written artefacts come to us in countless forms, and each has its own story. In order to fathom these stories, researchers at CSMC are investigating written artefacts from all cultures that have produced such artefacts.
The exhibition 'Hamburgs Schriftschätze: Neue Fragen an alte Manuskripte' ('Written Treasures of Hamburg: New Questions to Old Manuscripts') offers insights into the manifold world of written artefacts and the research that is being done at the Cluster. Employing 20 particularly noteworthy, significant, or surprising written artefacts from the holdings of the Hamburg State Library (SUB), the exhibition gives a sense of how research at the Cluster proceeds: starting from individual objects, we can uncover historical contexts and recognise astonishing connections between different cultures of writing. It also shows why collaborations between the humanities, the natural sciences, and the computer sciences are indispensable for a deeper understanding of our written heritage.
The stories behind the artefacts in the exhibition are available here in our bilingual online catalogue. 
Katalog bestellen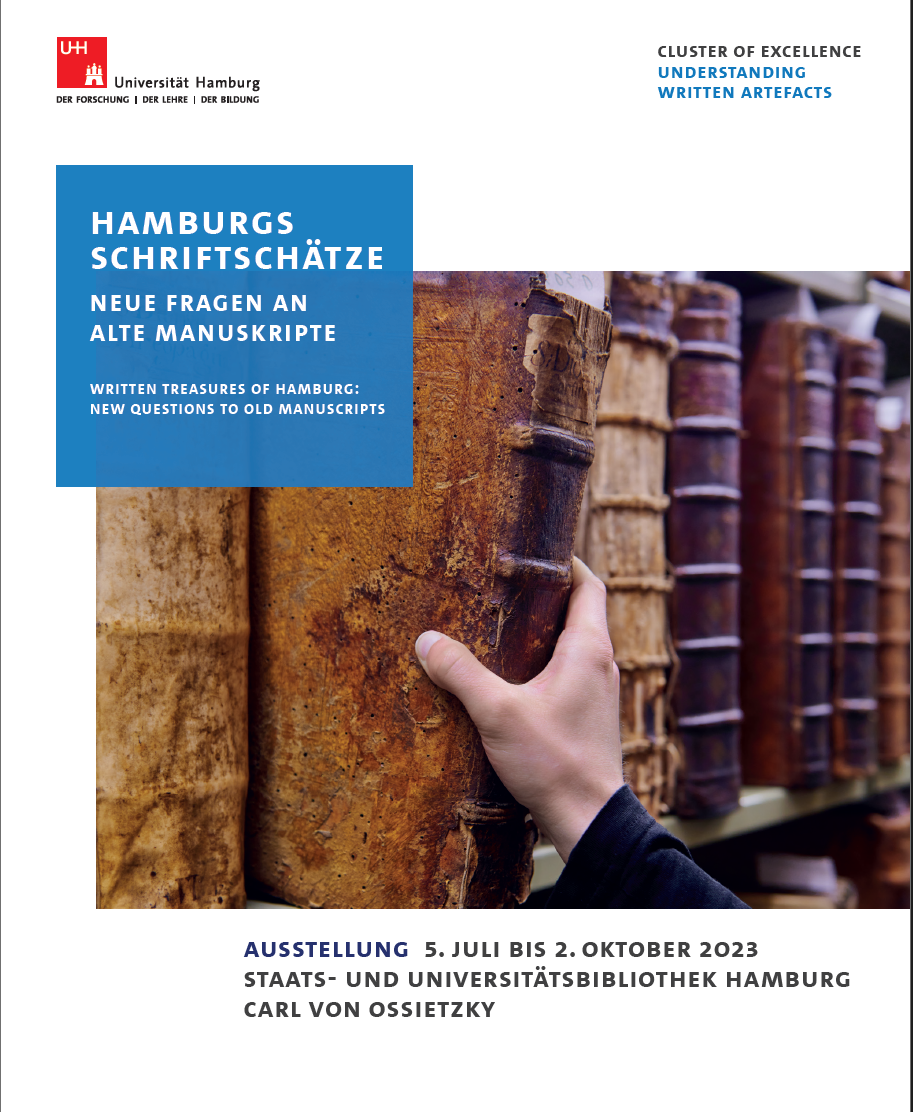 Der zweisprachige Ausstellungskatalog 'Hamburgs Schriftschätze: Neue Fragen an alte Manuskripte' / 'Written Treasures of Hamburg: New Questions to Old Manuscripts' ist auch als gedrucktes Heft erhältlich. Ein kostenloses Exemplar können Sie hier bestellen.
Bestellformular