7 November 2023
Photo: Tim Plamper
The artist Philip Loersch is the new Artist in Residence at the Cluster of Excellence 'Understanding Written Artefacts'. In our interview, he talks about how he came to draw pages, why old encyclopaedias inspire him, and what he wants to experiment with during his time at the Cluster.
Lesen Sie hier die deutsche Version dieses Interviews.
Philip Loersch, you say about your drawings that they 'don't look like drawings'. In your pictures, viewers often find texts that appear to be printed but are actually drawn. Why does writing play such a central role in your work?
I have always read a lot during my working process. Initially, however, I did not focus on the writing itself, but on the content of the texts. At that time, I was often concerned with fundamental questions of mathematics and physics. This gave rise to many drawings. In particular, diagrams fascinated me! At some point I asked myself: if this text is so incredibly exciting that I make drawings based on it, why don't I just draw the text itself? Thus, in 2012, I started making portraits of book pages. Since then, the topic of writing has never left me.
How do you find the texts for these portraits?
On the one hand, I'm interested in essays or books on writing itself, for example in the series 'On the Genealogy of Writing', from which I took the text in my work 'Die Große Handschrift'. On the other hand, I like to use antiquarian books such as encyclopaedias from the 1970s or 1980s. They are not that old, but nobody uses them anymore. Because of the alphabetical order of an encyclopaedia, you find truly curious neighbourhoods on their pages. I started reading encyclopaedias the way no one else would read them, namely simply from cover to cover. The material I collected in the process inspired many of my works, for example 'Gregor'.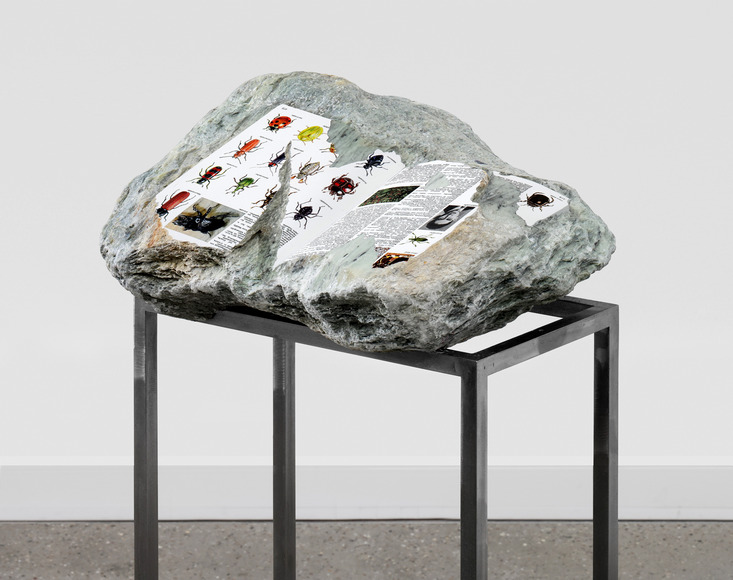 Why did you choose stone as the material for many of your works with writing, including some on encyclopaedias?
On stone, the texts take on the character of a quasi-archaeological find, something that has come down to us from the distant past. I am very interested in this ancient tradition of writing or making inscriptions on stone. Indeed, my first project at the Cluster will be a stone work: while browsing through some of the issues of your manuscript cultures series, I had the thought that at some point people might look at these issues in the same way like researchers at the Cluster today look at written artefacts from the past, in the process of which they produce written material themselves. Now a double page of one of these issues of manuscript cultures will grow out of a stone and become an artefact itself.
What do you expect from your time as Artist in Residence at UWA?
For me, a research institution like UWA is uncharted territory, but of course there is an obvious connection between us: our explicit focus on handwriting. I have already had the opportunity to exchange ideas with some of the researchers at the Cluster. For example, two of them showed me various materials that are used as writing supports in different manuscript cultures, such as bamboo in all possible forms or even tree bark. At the Cluster, I hope to experiment with these writing materials and learn something new for my work. At the same time, I also hope that researchers will find some inspiration for their work in my drawings. Especially in the sometimes completely different approaches and working methods of researchers and artists, I see opportunities that can lead to exciting results.