Films
What is CSMC?
What does it mean to do research on written artefacts? Employing concrete examples, two image films provide an easily accessible introduction to the work of scientists at CSMC, illustrating what the much-used term 'interdisciplinary research' means in practice. The short film (approximately 6 minutes) gives a quick overview for anyone encountering the CSMC for the first time. For those who want to know more, the twenty-minute film goes into more detail. Both films were produced by Hoppenhaus & Grunze Medien.
---
Thus speaks Tarām-Kūbi - Assyrian Correspondence
Thus speaks Tarām-Kūbi, Assyrian Correspondence - TRAILER from MSH Mondes.
About 4 000 years ago, Assyrian merchants established a commercial settlement in the ancient city of Kaneš, within Central Anatolia. They came from Aššur, north of Mesopotamia. We have come to understand their history through their writings on clay tablets that have stood the test of time: more than 22 500 cuneiform tablets have been unearthed from the archaeological site of Kültepe.
How did these Mesopotamian clay tablets arrived in Anatolia and what do they tell us? The voice of Tarām-Kūbi, an Assyrian woman who corresponded with her brother and her husband in Kaneš, takes us back in time.
Written by Cécile Michel and Vanessa Tubiana-Brun
CNRS – MSH Mondes (USR 3225)
46 min 30, video 16/9, France, 2020
The full version of the film (English) is available here.
---
Written Artefacts of Nepal – Preservation and Documentation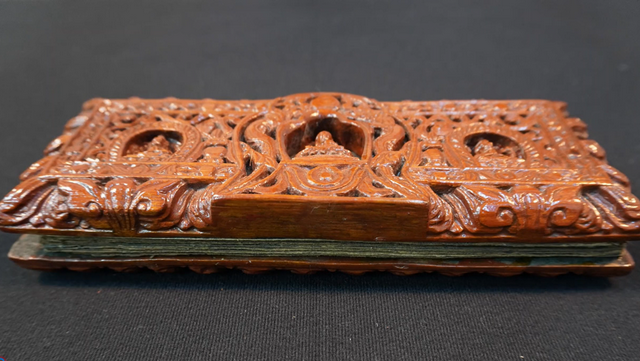 Nepal is home to exceptionally diverse manuscript collections, both in terms of scripts and languages as well as materials used. In this new video series, Bidur Bhattarai explains how these collections are preserved.
(7 episodes, Nepalese with English subtitles available)
---
Handwriting Matters - The Importance of Handwriting in Religious Contexts
Today it seems natural to write on keyboards and touch screens. But in certain contexts, using pen, quill, or brush on paper has by no means lost its significance. In this video, three CSMC researchers show how 'old-fashioned' handwriting remains fundamentally important in religious manuscripts where it cannot be replaced by print or digital media.
---
39 Grams of Qurʾān
In the past, the holy book of Islam was copied by hand not only in regular book size but also in the form of monumental manuscripts and, as shown in this film, really tiny ones. Cornelius Berthold explains the function of miniature Qurans and scrutinises an astonishingly precise 14th-century description of these small manuscripts.
(5 minutes, English with subtitles)
The film is also available in German.
---
Working from Home Around the World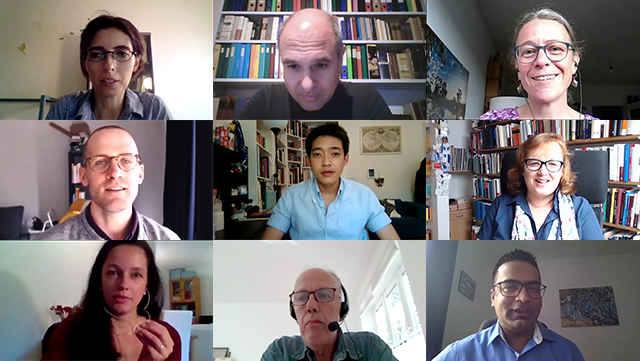 In the filmed interview series Working from Home Around the World, members of CSMC share their thoughts about how their work has been affected, how they cope with the various restrictions, which changes might remain with us in the future, and, of course, where they actually work from during the pandemic.
(5 min., English with German subtitles available)
---
Book Presentation: Florentine Music of the Middle Ages Rediscovered
At the beginning of the 15th century a Florentine scribe completed a music manuscript with more than 200 secular Italian and French songs. After these went out of fashion by the end of the century, the music was erased and the parchment was reused as writing material for a new manuscript – this time a book to record the properties of the Church of San Lorenzo in Florence. Finally, at the beginning of the 1980s traces of the original music were rediscovered. Only through the collaboration of scholars and scientists was it possible to make visible again the original musical notation and thus to reconstruct the music collection. The outcome of this work which took many years was published recently by Andreas Janke and John Nádas, including images of the 111 reconstructed folios of the music manuscript as it was originally organised.
(52 min., German and English)
---
Cuneiform Script: Writing and Calculating
Cuneiform script: writing and calculating from MSH Mondes.
Christine Proust (Director of Research at the CNRS) and Cécile Michel (Director of Research at the CNRS and Principal Investigator in the Cluster of Excellency UWA) show how to read and write the Cuneiform script of the clay tablets from ancient Assyria. The film was produced by the Maison Archéologie & Ethnologie.
(18 min., French with English subtitles. The film is also available with subtitles in German, Spanish, and Turkish)
---
Consultation on the Preservation of Palm-leaf Manuscripts
Three presentations recorded at the workshop Consultation on the Preservation of Palm-leaf Manuscripts at CSMC on 7-8 August 2018.
Palm-leaves were popularly used as writing supports during a long stretch of time and in vast geographical areas, such as parts of South Asia, Central Asia, South-East Asia, etc. Even until modern times, in some parts of these regions they are being produced and used for writing various kinds of documents. Most of such manuscripts are kept in public or private libraries and archives of these areas, whereas some other manuscripts have found their home in Western libraries and archives. It is always being challenging to appropriately preserve palm-leaf manuscripts because of the very fragile nature of the material, and their age. Furthermore, in some libraries or archives manuscripts are often kept under inadequate conditions due to the lack of appropriate preserving materials, techniques, infrastructures, etc. Manuscripts are often just wrapped up, alone or together with other manuscripts, in a piece of cloth and the bundles are just piled up one on another. This way of preservation may cause damage to such precious artefacts. Furthermore, many parts of manuscripts are also being eaten by insects, or are affected by mould because of the bad state of preservation. Often this implies that parts of a manuscript are already lost or illegible.
For this reason, the workshop aims to bring together experts and interested scholars to discuss both the traditional and modern techniques of the preservation of palm-leaf manuscripts and to get more insights into how to improve the current and long-term preservation of such artefacts.
---
Borno calligraphy - Creating hand-written Qur'an in northeast Nigeria
This documentary by Dmitry Bondarev explores the traditional techniques of copying the Qur'an as they survive in modern-day Borno, northeast Nigeria. Filmed in Maiduguri in 2009, it gives a step-by-step insight into the process of creation of a hand-written manuscript. Discussions of format, layout and ink types are followed by the demonstration of how the consonants, vowels and divisional marks are written.
(40 min., English and Kanuri with English subtitles)