3 June 2022
Hamburg in 1989: school grounds are split into 'poppers' and punks. Mirko Reisser is quickly turning into a well-known figure in the graffiti scene. Thirty years later, both he and the scene have changed. What stays the same is in four letters: D A I M.
Lesen Sie hier die deutsche Version dieses Artikels.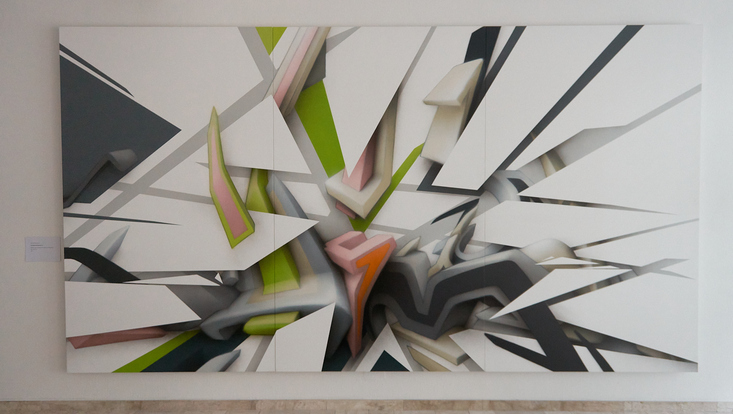 Where's the D? It takes a while for viewers 'DAIMmonomania III' to allow their eyes to settle down. First of all, there are all kinds of shapes and sharp-edged objects that seem to push their way into the room from the middle of the picture (and probably go even further, given the power of the image as a whole). You can only recognise the letters in it once the urge to take cover has passed. There's the 'A', which seems bent and deformed by the forces in the background despite its size and robustness. Then there's the 'i' whose dot is about to fly through the ceiling. And last of all, there's the black 'M' strutting with strength. Where's the 'D', though?
'My work has grown more and more abstract over the years,' says Mirko Reisser, the first Artist in Residence at CSMC, whose panel painting entitled 'DAIMmonomania III' has been put up in the foyer of the building at Warburgstraße 28 this spring. 'The letters have taken up less and less space, while everything that's around them has become more important, like the background and dynamic effects. It's all about the moment before it happens. The letters are partially hidden from view, but the white areas could break out any moment and then all the lettering would come out. We're not quite that far yet, though', he adds.
In Reisser's pictures, which he calls 'self-portraits', it's the 'D' that has seen the greatest abstraction. It is no accident it's at the beginning of his tag. When he first starts spraying at the end of the Eighties, the first thing he does is create his own 'tag' (a personal signature). It's important to pick the right letters, of course, but how they relate to each other is, too. He decides to put the rounded 'D' first, which leans forward and props up the 'A' with its slanted beams. The 'M' is even stabler thanks to its three straight legs. And a rather shaky 'I' (which usually has dot in the paintings) fits into this rigid scaffold as well. The resulting combination of letters – D A I M – doesn't mean anything – not at first, at least, because if it's sprayed on a wall and then on lots of others, it soon becomes a symbol standing for (and becoming a part of) the artist himself.
From street walls to the walls of a gallery
Behind graffiti writing, which is a big part of the graffiti scene, but by no means the only aspect of it, there's a simple but powerful driving force: the urge to leave a trail for others to follow, to create something that will be seen and get noticed. Graffiti is part of urban art, a phenomenon that can only arise in urban spaces, or rather, in today's modern cities with all the anonymity they provide. The seed is sown in New York and Philadelphia in the Sixties: young people begin to spray their tags on the facades of houses, walls and trains (which prove especially popular), leaving a recognisable sign behind, but puzzling those unfamiliar with the graffiti scene. One legendary seventeen-year-old sprayer who calls himself TAKI 183 (a Greek living in New York) even makes it into The New York Times in 1971.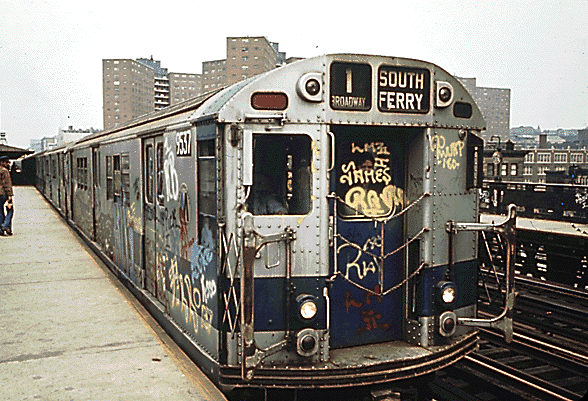 The scene keeps on growing. By the end of the Seventies, the city's trains are all covered in graffiti. Mayor Ed Koch takes a hard line and gets graffiti criminalised, so New York's metropolitan trains are 'clean' again in the Eighties. Now the genie is out of the bottle, though. 1983 sees the making of Wild Style!, a film in which various prominent figures in the urban art scene appear, including break dancers, DJs and sprayers, whose subcultures get combined here for the first time, shaping 'hip-hop'. These stars become role models for young people all over the world in just a short time.
The hip-hop wave also reaches Germany now. The first phase of it is chaotic as everyone does everything themselves – break dancing, DJ-ing and spraying graffiti on walls; independent scenes only develop out of this gradually as time goes on. It's a culture that can't be consumed yet because there's not enough of it being produced at that point – you can only be part of it by doing it yourself. As more young people get involved in it, the focus shifts to doing it well. To gain recognition in the burgeoning scene, you have to create something memorable. In the case of graffiti writers, the way you stand out is by styling the letters you spray. Making distinctive tags has always been a goal for sprayers even when the graffiti scene was still quite small; but as competition from other sprayers grows, individual creativity becomes even more important than it already is. Experiments with colours, shapes and materials ensure that increasingly sophisticated pieces are created.
With the emergence of style writing, Graffiti starts turning into an art. What's initially dismissed by many people as teenage tantrums and is constantly associated with illegality gradually finds its way to respectability at commercial trade fairs and art galleries. Little by little, the scene gets more professional – and commercialised. A market for graffiti art is developing now, especially in Germany. Spray cans get better and the variety of colours available grows. There are two sides to the coin here, though: while the scene loses something of its subversive, rebellious character due to developments, it also offers graffiti artists an opportunity they would never have imagined getting: the chance to actually make a living from spraying.
Exploding in slow motion
One of the people who seizes this opportunity at the beginning of the Nineties is Mirko Reisser. When he first uses a spray can for graffiti in 1989, he is already relatively old for the scene – 17, in fact. (Most beginners are younger, around 14 or 15.) But his late start does have an advantage: he gets his driving licence soon after that and then drives around and 'gets up to all kinds of things,' he says. No-one knows what he is up to except his fellow sprayers, so his unsuspecting parents are more than a little surprised when a policeman rings the doorbell one evening. There's no cause for worry, really, though – Reisser produces his first commissioned works in 1991 soon after finishing school and starts earning his own money with spraying.
Initially, the graffiti he creates involves figures, but this kind of spraying can never detach itself completely from other directions in art as the parallels to comics and photography are obvious; there is always something out there you can be compared with or associated with. Style writing is new, however. It has its own precursors and role models, of course, but it's unique in the form in which it evolves in the graffiti scene. What Reisser finds particularly interesting about it is the tense relationship between chaos and control. On one hand, writers can style the letters they spray in countless ways – the fancier or more unusual they are, the better – but on the other hand, typography lays down rules that you can't avoid, even underground; an 'A' will always be an 'A', so your scope for creativity is limited. Exploring these degrees of freedom is what art is all about – in Mirko Reisser's case, as he says with irony, he's been exploring how to paint the same four letters in different ways for the last 30 years. 'But the way I do it has got a lot to do with myself each time – with my own character, I mean', he says, adding: 'My pictures have changed just as much as I have in 30 years.'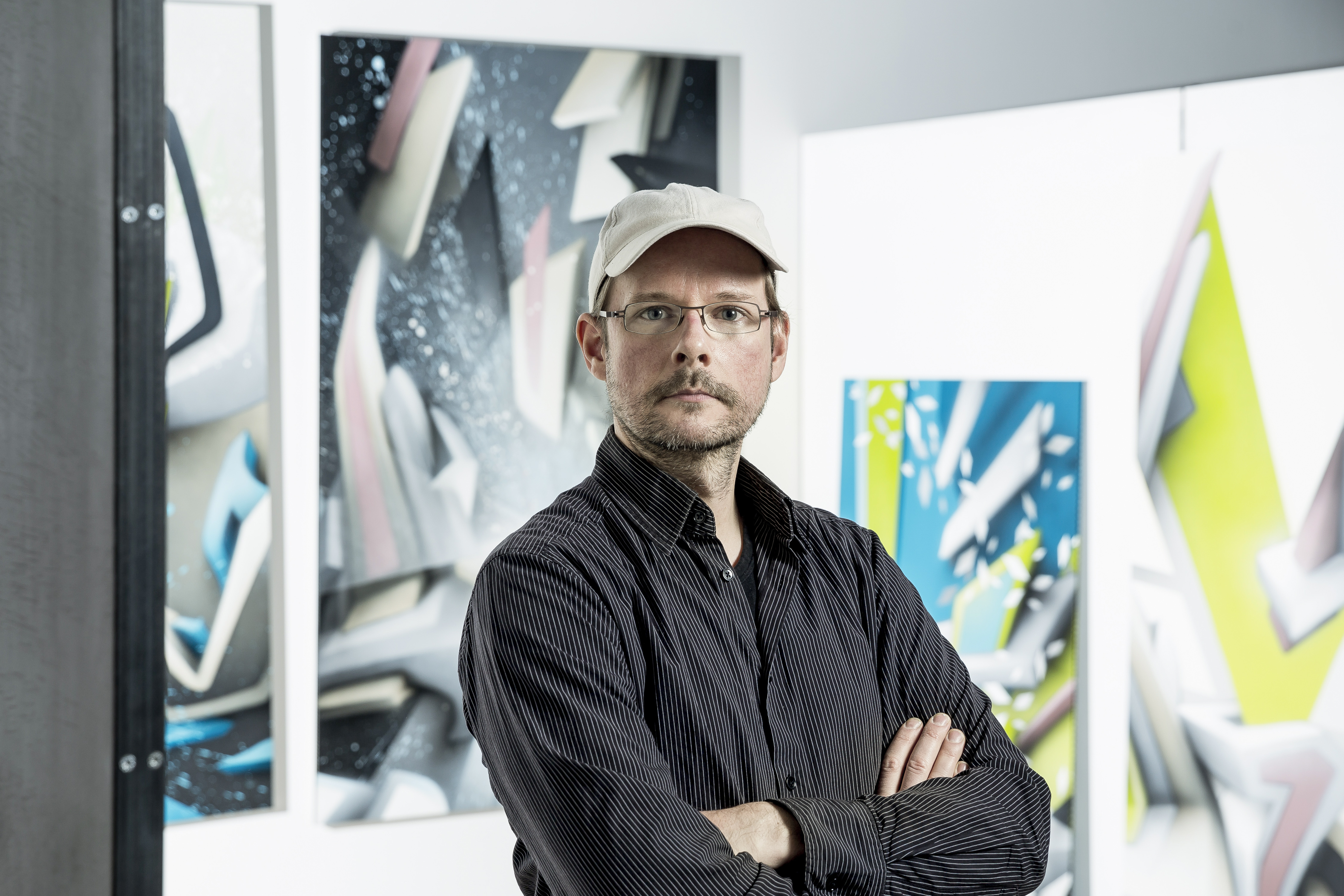 Two aspects particularly stand out in this continuous process of change: the range of colours he uses decreases, while the amount of abstraction increases. 'In the course of time, my work has got greyer and the range of colours I use has got smaller', he explains. 'There are strong highlighting colours now, though.' The prominent bright green and orange in 'DAIMmonomania III' demonstrate this quite clearly, just like the tendency to be abstract. In this three-panel painting, the artist has used a technique he only tried out before on aluminium honeycomb panels, a new kind of material he has just started working with. It involves masking some areas to create sharp lines that couldn't be made as precise just by hand-spraying them. The letters aren't made by masking, though – Reisser says that isn't an option: 'I like the contrast. If you spray by hand, it can never be perfect because you just can't spray super fine lines. The masked areas are a real contrast.' What his pictures capture these days isn't initial explosions, but stages in between – the moments before something else happens. But whatever's going on there goes even further than that.
Where is this development going? Are the colours gradually losing their intensity? Will the areas and shapes pushing out from the back continue to conquer the space around them? At the end of the day, only the pictures that are to come will show us. 'Sometimes I wish things would happen faster', says Mirko Reisser. The explosion's happening in slow motion. The story of the four letters isn't over yet.