'When the Text Comes Back, There Is a Moment of Awe'
Interview with Kyle Ann Huskin
14 January 2022
In early 2021, the Harburg City Museum receives the fragments of three Tora scrolls from the estate of a former employee. Looted during the Reichspogromnacht, the pieces show remnants of a handwriting. Kyle Ann Huskin explains how she and her colleagues at CSMC reconstructed a puzzling piece of Harburg's history.
Lesen Sie hier die deutsche Version dieses Artikels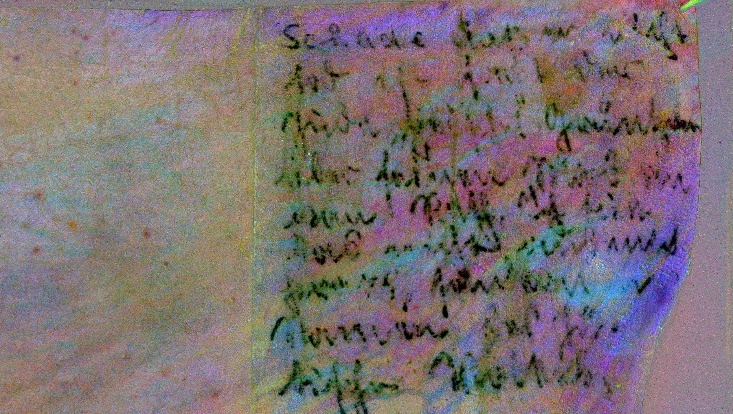 Something is still there. Although the words are no longer decipherable, the fragments of the Tora scrolls clearly show traces of someone's handwriting. Found in early 2021, these scrolls belong to the estate of a former employee of the Harburg City Museum. This man, once a member of the Hitler Youth, was presumably part of a mob that stormed the Harburg synagogue on 9 November 1938. They looted religious artefacts, including the Tora scrolls, and burned them on the market square in front of the synagogue. Some scrolls, however, were not set on fire. Instead, they were smeared with Nazi slogans and contemporary propaganda. Until his death, the former museum employee kept three such testimonies of the Reichspogromnacht in a folder of personal documents. Remarkably, someone, maybe the man himself, later tried to remove the Nazi slogans from the Tora fragments. While the words were erased almost completely, marks of a handwriting remained.  
Hoping to make the removed writing visible again, the Harburg City Museum approached the CSMC. Eventually, the five-member team at the Centre succeed in reconstructing the handwriting. For the historians at the museum, this was profound discovery. Never before had Nazi propaganda messages been found on Tora scrolls. Jens Brauer, head of the museum's department of urban history, even considered these Tora fragments to be the most important part of the exhibition 'Places of Jewish life in Harburg' ('Orte jüdischen Lebens in Harburg'), which is open until 13 February 2022.
How is it possible to reconstruct handwriting decades after it had been removed? We asked Kyle Ann Huskin, who works in the CSMC laboratory and was involved in the Harburg project.
---
Kyle Ann Huskin, reconstructing Nazi slogans on Tora scrolls is an unusual assignment. How did it come about in the first place?
After receiving the fragments, the museum first turned to a forensic laboratory. They tried to make the removed text visible again with one or two wavelengths of light but were not successful. That's why the museum approached us.
What was the condition of the three fragments that you then got to see? Was it obvious that something had once been written on them and then removed again?
On the back of the largest piece was an area where someone had scraped something off. On the two smaller pieces, parts of handwritten letters were still visible, but they had also been removed. It was clear that something had once been there. We wanted to know what.
How exactly did you proceed?
First, the object has to be in place. One of the fragments had been folded for decades, before that it was a scroll – it is tedious to lay something like that flat. And, of course, nothing must move while we are imaging. So, we had to fix it well without damaging it. We then did an XRF, an X-ray fluorescence analysis, to get a better understanding of the material. That takes about a day. Then we needed another day for the multispectral imaging. The actual process is faster, but it takes time to set up the system correctly. Image processing then takes another day and a half.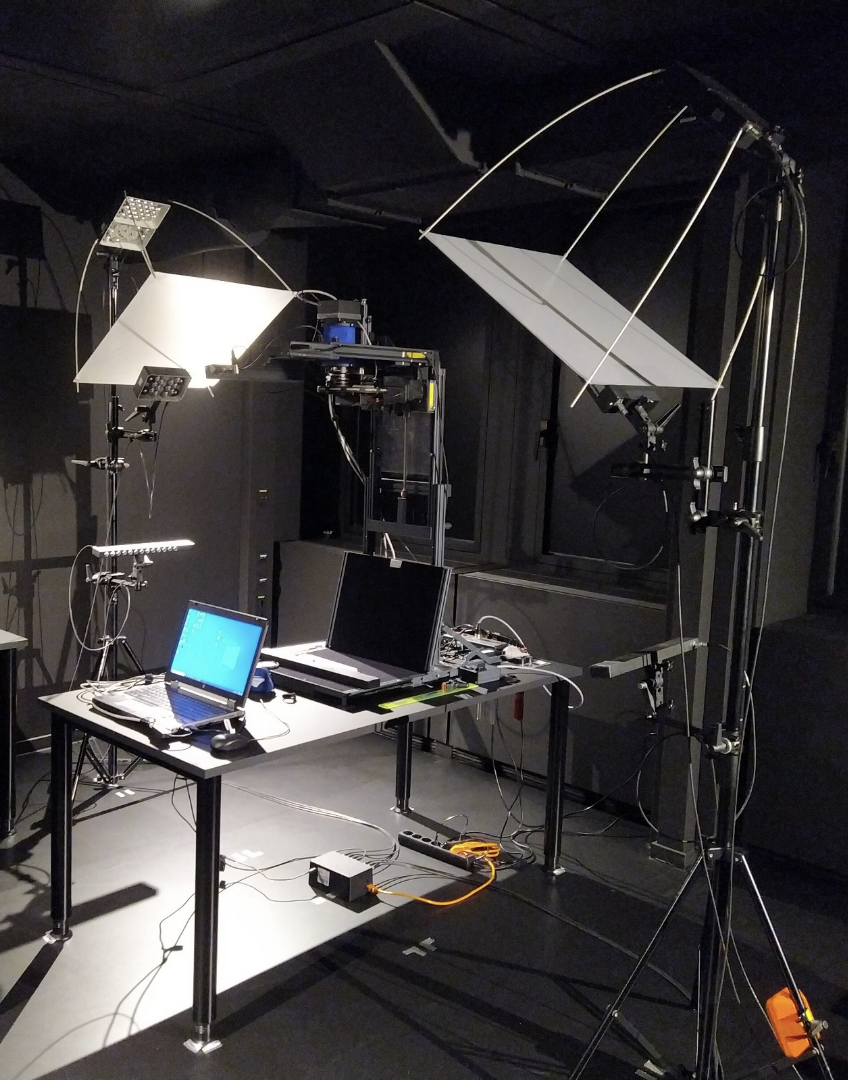 Setting up the system correctly – what does that mean?
On either side, about 1.5 metres from the staging table where the object sits, we have large stands with three different lights. The top lights emit one wavelength at a time, from the visible spectrum (blue, cyan, red, and so on) up into the infrared. These images give us valuable information about the types of inks present on the object, as every material has unique spectral properties.
A little further down we have the ultraviolet lights. We use those with a filter wheel – a set of six Wratten filters, each of which selectively blocks a different wavelength of light, that sits between the camera lens and the object and rotates between shots. We do this because parchment fluoresces: it reemits light at a higher wavelength. Any ink or pencil remaining on the surface will quench fluorescence, thereby making the text more visible. This phenomenon is very similar to what you can see at a club when a white shirt appears to glow blue under a black UV light. Because of these optical properties, the fluorescence images are typically the most useful for recovering erased or damaged text.
Even further down, we have raking lights placed at an angle of 10 to 15 degrees relative to the object. With these lights we capture the surface texture, which can help us visualise the damage and, in some cases, the letter indentations left during the writing process. We determine the height, intensity, and duration settings for every light based on the unique needs of each object, for example its size and how brightly it fluoresces.
A trial-and-error process?
We have settings saved for objects that are, for example, about the same age or about the same brightness. But the fine-tuning is done by hand. A histogram shows us how much light hits and is emitted by the object.
Why the person removed the writing but kept the fragments is a mystery to us.
How do you then get from the properly set system to the reconstructed handwriting?
Eventually, we have 50 different black and white images, each of them in a different wavelength or with a different filter. From these we build an 'image cube' by stacking them on top of each other so that all pixels are aligned and we get information about, for example, which pixels show parchment and which show text. We then increase the contrast between text and parchment by running it through different algorithms. You have to experiment for a while to find out which places are best to recover the writing.
So, the final image is really a compilation of many individual images...
...which we processed with computer programmes and then fed into different red, green, and blue channels. That is why the final images have all these crazy colours that look nothing like the original. Researchers tend to not like that, but we have to work with it.
How easy is it to read the script then? It probably still needs some completion and interpretation.
It depends. Some materials leave clearer traces on parchment than others. On the two smaller fragments, it looks like someone wrote on them with a pencil. Pencils are carbon-based, and carbon sits quite loosely on the surface. If you remove that, not much remains, so this text was particularly difficult to recover. But ink was used on the larger fragment, and that leaves traces in the parchment. Even when scraped off, it is still there and reacts to our light. In the end, almost all the text was legible again – if you don't have trouble with Sütterlin...
Do you know what was done to the parchments to remove the writing?
In the case of the large fragment, it looks like someone went at it with a knife. If you shine light from underneath, you can see where it is thinner. Several layers have been removed. Knives may have been used on the smaller fragments as well.
Looks like someone did not want to leave anything to chance.
Yes. But we don't know the background. Why the person removed the writing but kept the fragments is a mystery to us. I assume they wanted to leave something behind. But then the question is why they did not destroy or return the pieces.
What is it like to make words reappear that were invisible for decades?
When the text comes back, it always feels like a miracle. Of course, we know better than anyone that it is not a miracle. But sometimes, when the text is suddenly back, there is this moment of awe: there it is again, and we are the first to see it after so long. In this case, there was added weight because this text is a remnant of a horrific period in history. It felt strange to make all this effort to recover a piece of Nazi propaganda. Normally, that is something you would rather leave erased. But in this case, it was important to learn about the historical context.
Is that the core of your work: using technology to better understand history?
Yes. We are often approached by scholars or libraries, and sometimes also by private citizens with family documents, for example. At the moment, we even have time for this because we can hardly travel to get new material. So, we are happy when the material comes to us. It is interesting because we get to deal with so many different inks and papers. That is the great thing about multispectral imaging: from Tora scrolls to Ethiopian manuscripts to medieval palimpsests – every object is a new adventure.