Innovative Hieroglyphic Technologies from Highland Guatemala
Mallory Matsumoto
The Staatliche Museen zu Berlin preserve a curious clay artefact: a pedestaled box whose surfaces are embellished with images of people and short texts in Maya hieroglyphs. Although the provenance of this object remains uncertain, its exceptional form and unusual text attest to an innovative way of writing that was never widely adopted in Classic Maya culture. For what purpose was it made, and what insights does it give us into the development and use of new technologies in this civilization?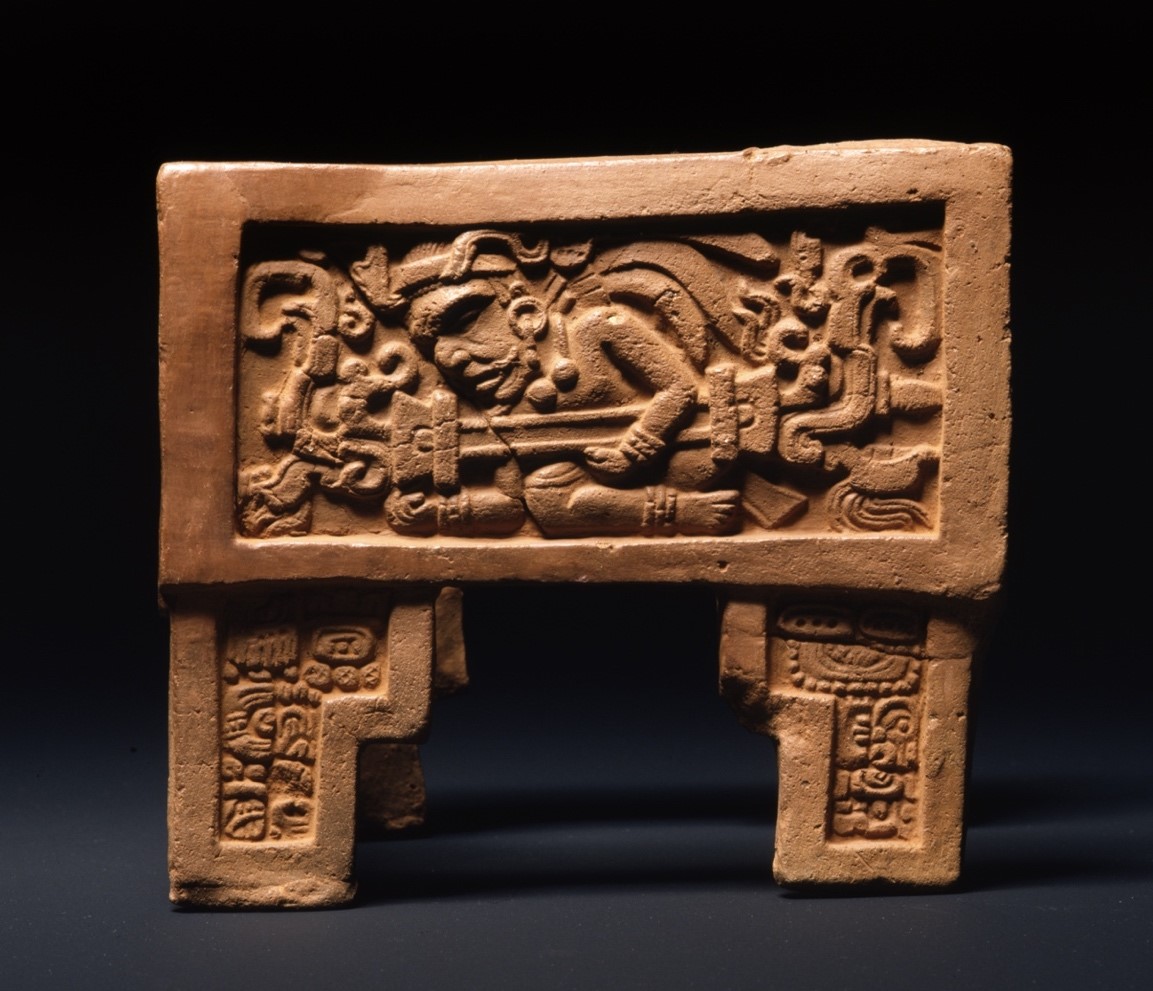 This unassuming quadrangular box, made of fired clay in the highlands of what is now Guatemala in the late first millennium ce, measures no more than 16 cm in any dimension and weighs in at less than 1 kg (Fig. 1). Yet it provides an outsized window into the history of Maya hieroglyphs, technologies of writing, and the linguistic and cultural diversity of the ancient Maya lowlands.
Like many Classic Maya (250–900 ce) artefacts in museum collections today, this object's recent history reflects the globalising, industrialising world of the late 19th century. Businessman Erwin P. Dieseldorff was one of many Germans to emigrate to Guatemala during the late 19th century and fuel the country's growing coffee industry. He also recovered many antiquities from the ancient mounds on his property in Chajcar near the city of Cobán, Alta Verapaz, Guatemala, including this artefact, which he later donated to what was then the Museum für Völkerkunde in Berlin. Unfortunately, Dieseldorff did not systematically document his findings, so we know little about its original context in Chajcar. But its form, at least, suggests that it was originally produced during the Terminal Classic period (810–900 ce) of Maya civilisation for ritual use as a musical instrument and, perhaps, as an object of veneration.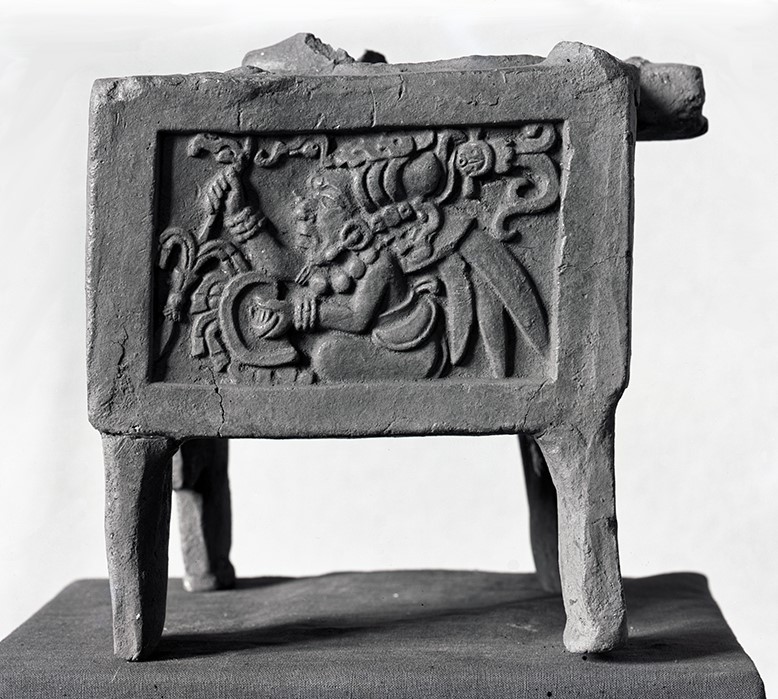 The artefact is unusual in the Classic Maya world for several reasons. The first is its form. The box consists of several ceramic pieces that were likely produced in separate moulds and attached to each other before the box was fired. Four rectangular panels or plaques, each with a central image, compose the sides of the box. The box stands on four feet, one at each corner. Based on comparison with other examples, it is likely that the box originally had a flat ceramic base and top, although neither survives today. The top panel probably also had a rounded blowhole protruding out from the flat surface, as shown by this complete exemplar also discovered in Chajcar (Fig. 2). This whistle-like mouthpiece could have been blown to play the ceramic box like an ocarina or clay whistle, generating what would have been a sonorous, captivating tone.
The four sides of the box are embellished with scenes of ritual actions that dominate the viewer's attention. The two, longer sides of the box each show a single male figure with supernatural facial features leaning on his right side (Fig. 3).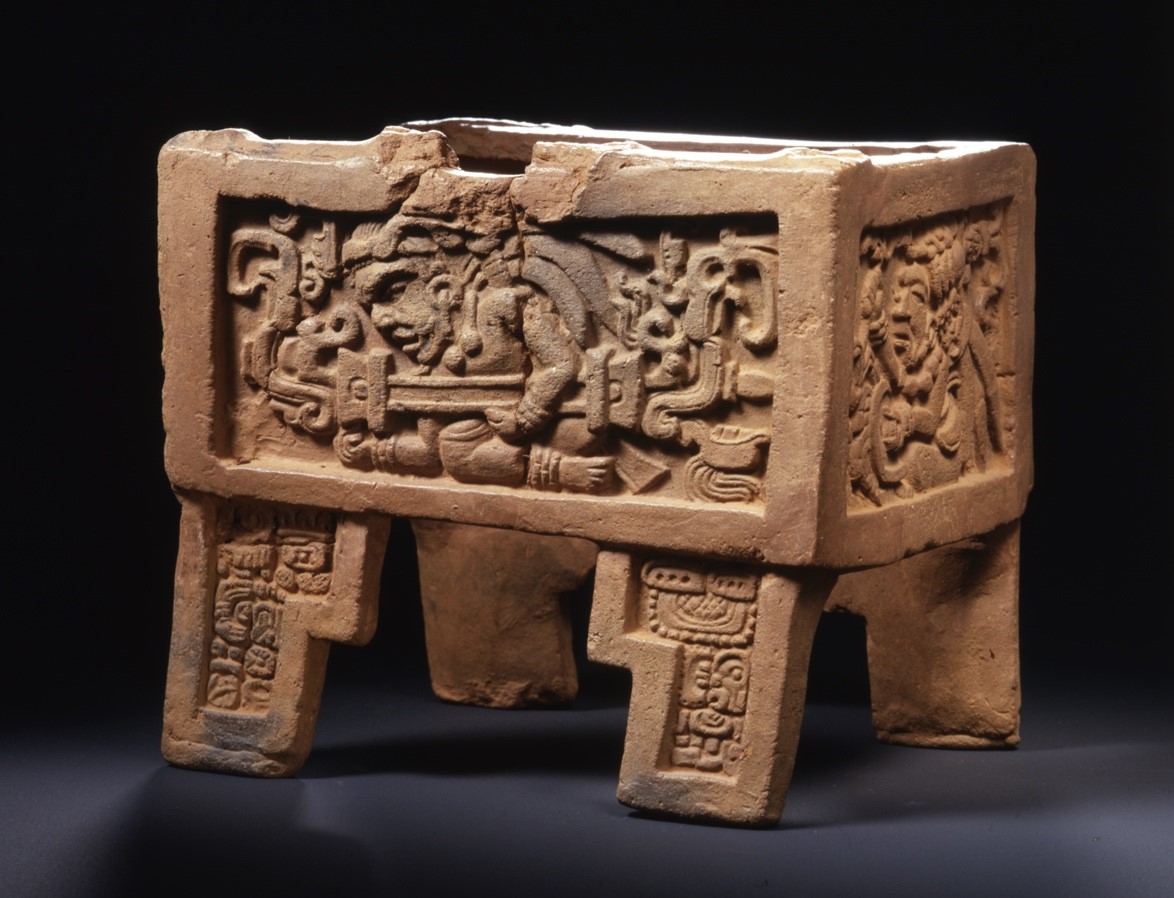 He holds a horizontal bar with centipede heads emerging from either side, a common Classic Maya emblem of authority. The shorter sides, in turn, show a different person, seated with a staff or spear in his right hand (Fig. 4).The men on all sides wear elaborate headdresses, which was a common symbol of elite status. Even though we do not understand exactly what events or persons are illustrated, together, these images suggest that the object was used for religious purposes.
Below these figures, tucked into the legs of the standing box, are more signs—hieroglyphs from the Classic Maya writing system. This script was used across the Maya lowlands of what are now Mexico, Guatemala, Belize, and Honduras from at least 300 bce through the 16th or 17th century. It recorded a language that we now call Classic Mayan and whose closest 'living' linguistic relative is Ch'orti', a Mayan language which is still spoken today by a few thousand people in eastern Guatemalan and western Honduras. Classic Maya hieroglyphs represent an invaluable source of information about ancient Mexico and Central America and the writing system with the longest history of use and most robust corpus in all of the indigenous Americas.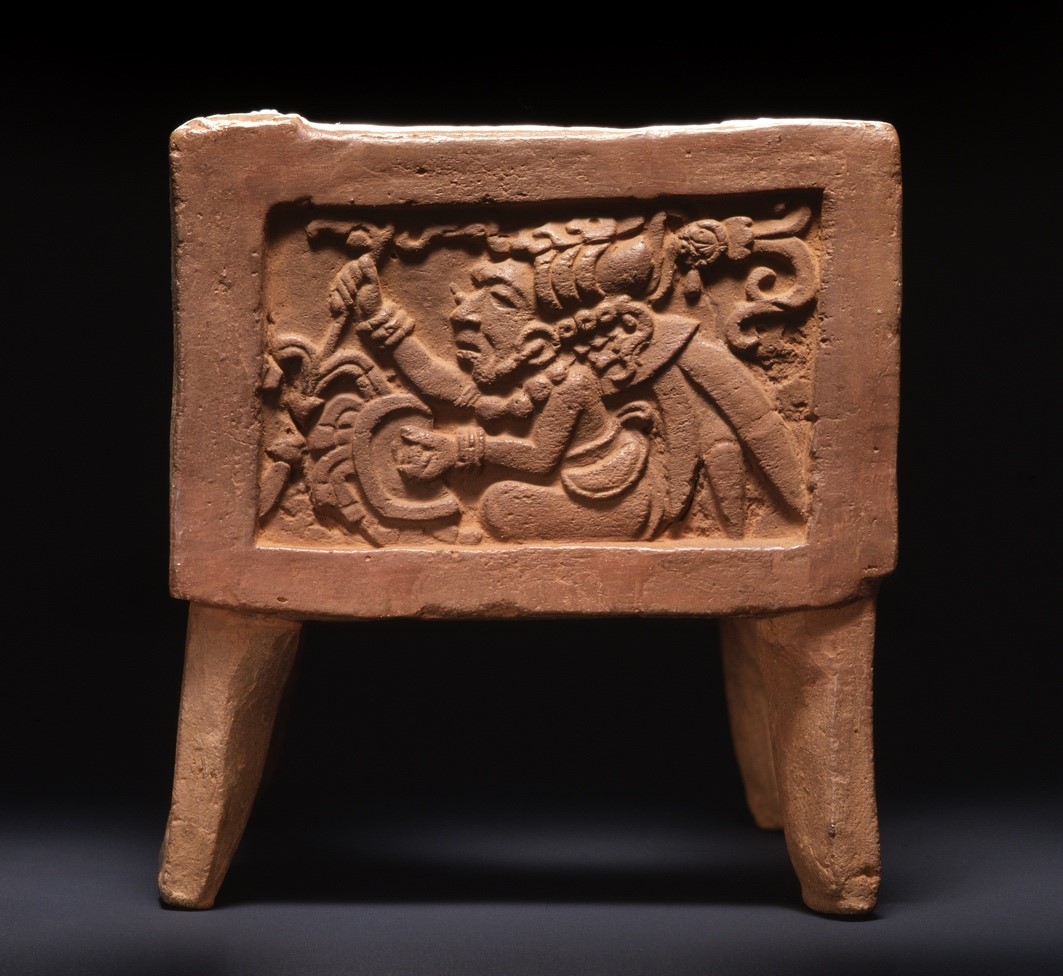 Not all the text on the legs of this ceramic box is legible, but what we can read aligns with the ritual themes that are illustrated on the box's sides. The top of one ceramic foot records the elite political title baah tz'am ('head/first [person of the] throne'), and the kinship phrase y-ich'aak identifies that status-bearer as the 'nephew' or 'cousin' of someone named at the bottom of the leg as Saak? Nuuch?. Could this have been the person portrayed on the short sides of the ceramic box? The text does not tell us, but we can surmise that at the very least, he probably participated in the ritual activities that the box itself represented. In any case, he was important enough to be named in a hieroglyphic text, an opportunity not available to most members of Classic Maya society.
The text on the other foot, in turn, includes a mention of k'uh 'god; holy'. This word sequence is notable not for its content—k'uh was frequently recorded in Classic Maya inscriptions—but for its atypical spelling. Here, k'uh is written not just with the usual logograph that represents the entire word, but with an accompanying phonetic sign that reinforces the word's first syllable, k'u. The author of this text thus added an extra linguistic cue. Perhaps local readers spoke another Mayan language and needed to be reminded how to pronounce the Classic Mayan word for 'god'. Or maybe the scribe's choice was stylistic rather than linguistic, reflecting a broader trend during the Terminal Classic to include more syllabic signs than their predecessors had.
This figurine plaque is also important as a testament to Classic Maya technological innovation. The hieroglyphically inscribed feet, like the decorated panels above them, were shaped by pressing moist clay into a ceramic mould, allowing the shaped clay to harden by drying it, affixing the pieces of the box together, and then firing them to fix its final shape. Ceramic moulds were themselves nothing new; the technology was widespread during Classic Maya times, as attested by the wealth of anthropomorphic and zoomorphic figurines that potters made. Nor was hieroglyphic writing an unusual embellishment for Maya ceramics; vessels had been popular writing surfaces for generations, and the ceramic corpus features some of the most visually stunning and epigraphically fascinating texts that have survived into the present (Fig. 5).
The technologies of writing and moulding ceramics co-existed side-by-side for centuries in the Maya world. What this box represents is an innovative combination of the two. Notably, this technological shift to moulding or stamping Maya hieroglyphs toward the end of the Classic period is best known from areas of the Maya world that are notable for their striking lack of further evidence for participation in the regional scribal tradition. Most hieroglyphic writing is concentrated in the zone encompassed by what are today the Department of Peten in Guatemala and the Mexican state of Campeche, which is widely considered to have been the 'heartland' of Classic Maya civilisation. In contrast, Chajcar and other settlements in the Guatemala highlands offer few to no monumental inscriptions and comparatively few painted ceramics with legible hieroglyphs. The texts from this region are not only few in number, but also anomalous in the high frequency of syllabic or otherwise unusual spellings and alternative grammatical forms. Perhaps they were made by or for people who spoke not Classic Mayan but a vernacular Mayan language that was never written down.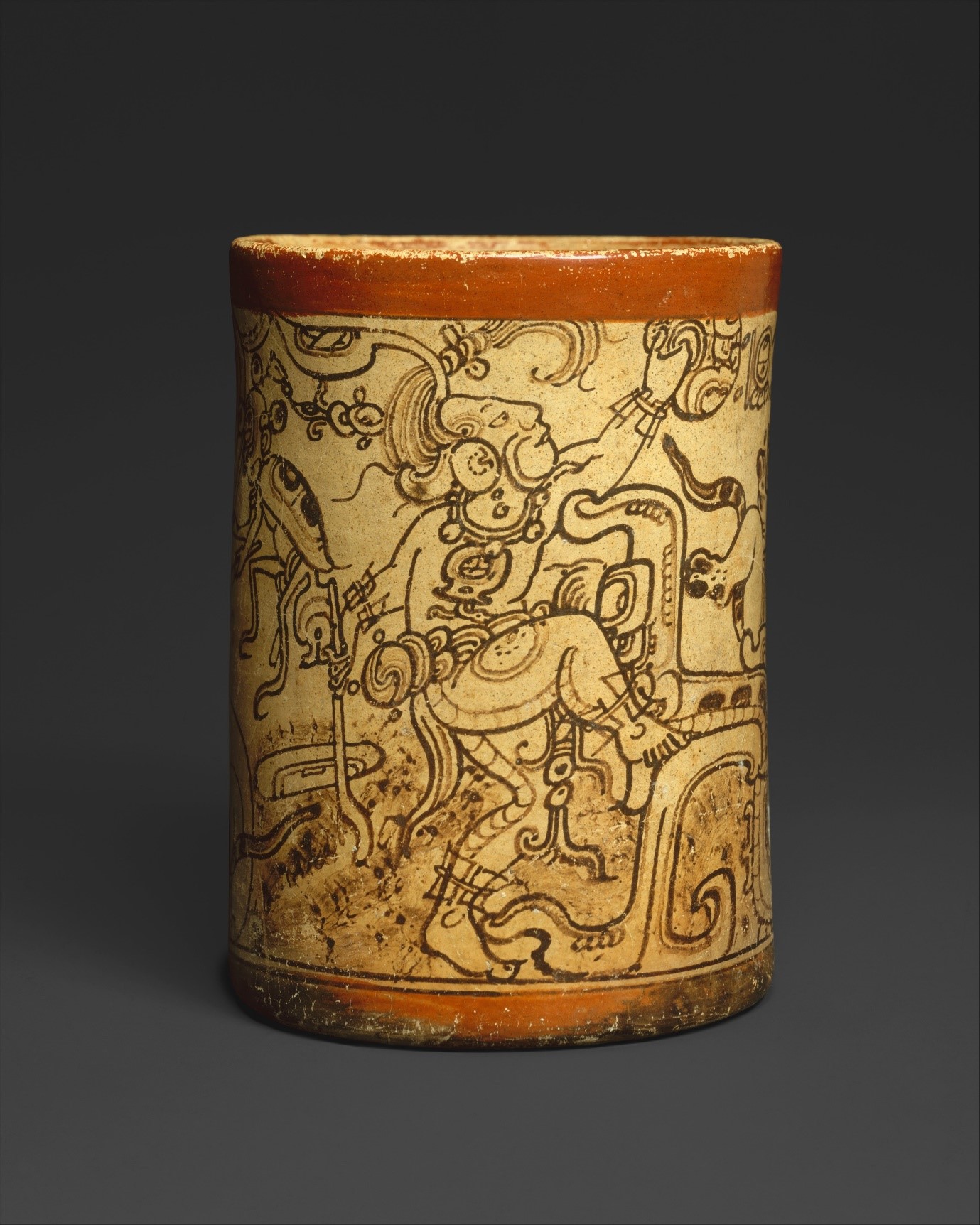 The potential advantages of mechanically reproducing Maya hieroglyphs with a mould are obvious to a 21st century reader. Maya potters could produce multiple copies of this same shape—including several that made their way into Dieseldorff's Chajcar collection (Fig. 1; Fig. 2) —without having to know how to read or write. Like a small-scale printing press, ceramic moulds offered an efficient means of producing inscriptions that could be widely disseminated, making writing far more accessible. Yet the technology of moulding hieroglyphs that produced the inscription on this ceramic box from Chajcar never really caught on. By the end of the Terminal Classic period, very few mould-made ceramics were being made with hieroglyphic inscriptions, even as potters continued moulding many other ceramic forms.
Writing in the Classic Maya context was intended for an elite minority, to which Saak? Nuuch? and his relative seem to have belonged. Upon the disintegration of Classic Maya divine kingship during the Terminal Classic period, the elite technology of hieroglyphic writing lost much of its audience and inscriptions. Texts were produced in more modest quantities. Moreover, they were consistently written by hand, the method that was always preferred in the Classic Maya tradition. In the end, our artefact is a rare witness to a short-lived technological solution that was never widely adopted across the Maya lowlands.
---
References
Dieseldorff, Erwin P. (1926), Kunst und Religion der Mayavölker im alten und heutigen Mittelamerika, Berlin: Julius Springer.
Falcón, Guillermo Náñez (1970), Erwin Paul Dieseldorff, German Entrepreneur in the Alta Verapaz of Guatemala, 1889–1937, PhD dissertation, Department of History, Tulane University, New Orleans.
Grube, Nikolai and Maria Gaida (2006), Die Maya: Schrift und Kunst, Berlin-Köln: SMB-DuMont.
Houston, Stephen D. (2016), 'Classic Collaterals', Maya Decipherment, <https://decipherment.wordpress.com/2016/03/11/classic-collaterals/> (Last accessed: 17/ 07/ 2022).
Matsumoto, Mallory E. (2018), 'Replicating Writing: Moulding and Stamping Hieroglyphs on Classic Maya Ceramics', Cambridge Archaeological Journal, 28/2: 299–320.
Matsumoto, Mallory E. (2019), 'Copying in clay: Maya hieroglyphs and changing modes of scribal practice', RES: Anthropology and Aesthetics, 71/72: 52–63.
Perez Galindo, Mónica (2006), Colección Dieseldorff: Corpus de cerámica del Clásico Terminal proveniente de Moldes (Report to the Foundation for the Advancement of Mesoamerican Studies, Inc.), <http://www.famsi.org/reports/03074es/> (Last accessed: 17/07/2022).
Sears, Erin L., 'et al.' (2021), 'A Story of Awe and Clay: Mold-Made Hieroglyphs from Alta Verapaz, Guatemala', Ancient Mesoamerica 25: 1–15.
Description
Location: Staatliche Museen zu Berlin, Ethnologisches Museum
Shelfmark: IV Ca 21058
Material: Ceramic (clay)
Dimensions: 13.8 × 12.4 × 15.7 cm, 0.96 kg
Provenance: Chajcar, Alta Verapaz, Guatemala
Copyrights
(© Staatliche Museen zu Berlin)
(© Metropolitan Museum of Art, New York)
Reference Note
Mallory Matsumoto, Innovative Hieroglyphic Technologies from Highland Guatemala In: Leah Mascia, Karin Becker (eds): Artefact of the Month No. 25, CSMC, Hamburg.