A Diplomatic Letter that was rather not a Letter
Peera Panarut
A letter is usually understood as a written message that one person sends to another. The text inscribed into the golden plate with the shelfmark Guge no 000064 at the National Palace Museum in Taiwan certainly looks like a letter a king might have sent to an emperor in bygone times, but is it really one? And why is there hardly any golden plate of this kind left now, even though this writing tradition has a long history?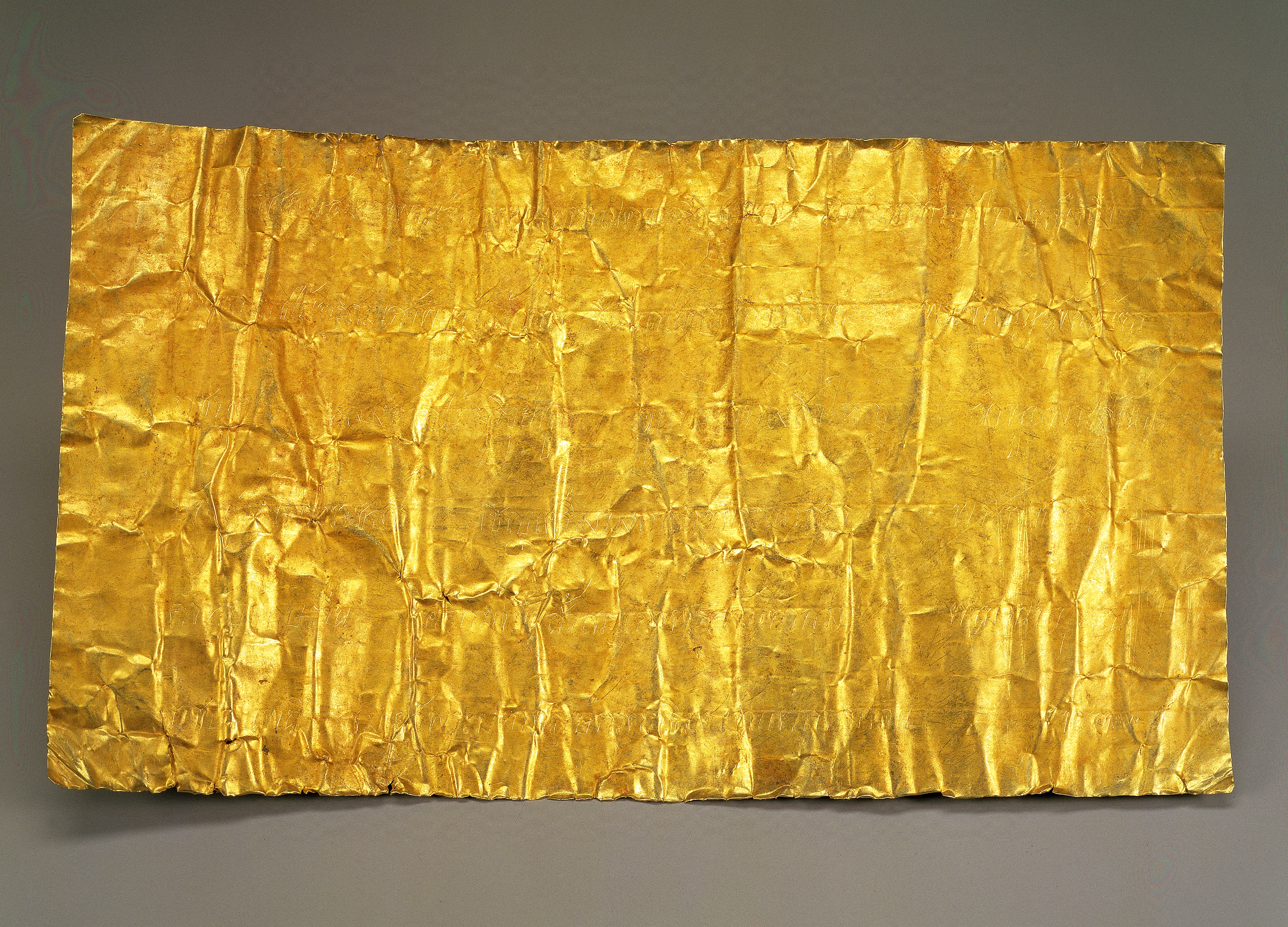 This particular artefact is a beaten sheet of gold. It is shaped like a piece of paper with a size of 28.5 × 16.3 cm and an approximate thickness of 1 mm. It contains six lines of writing in Thai script in the neat handwriting of royal scribes. The writing was engraved with a stylus, but not filled with any ink. Due to this technique, good light is required to reveal the engraved writing and make the artefact readable. Creases can be seen on the golden plate as it was folded – no doubt for better portability – and kept in a decorated metal casket.
The text inscribed on the artefact announces the delivery of royal tributes from the Siamese king to the Chinese emperor and also states the titles of several officials appointed for the mission. It also mentions the gold letter itself and a corresponding counterpart in Chinese. The text reads as follows:
'The royal letter from the King of Bangkok expresses His Majesty's thoughts on His royal friendship with His Imperial Majesty [the Emperor of China] in the past. The King has appointed Phra Camroen Suphannabat as the chief ambassador, Luang Sawat Maitri as the deputy-ambassador, [and] Khun Photcana the chief interpreter to carry the golden diplomatic letter along with royal tributes and a corresponding diplomatic letter in Chinese (kham hap) to give His blessings to His Imperial Majesty Emperor Daoguang, following the royal tradition of the great kings in the past.'

Although the text is undated, it mentions Emperor Daoguang by name, who reigned from 1820 to 1850. According to historical dispatches from Bangkok, this diplomatic mission to the imperial court of China was commenced in 1822 by King Rama II of Bangkok.
China and Siam maintained diplomatic relations with each other for a long time. According to diplomatic tradition, Siam and other neighbouring countries in South-east Asia would pay tribute to the Emperor of China as a symbol of their acceptance of the authority of the Chinese Empire, thus facilitating trade between their countries. Diplomatic relations between Siam and China seem to have been conducted ever since the fourteenth century. Part of this tradition involved sending a golden letter like this one, a custom that has also been documented in neighbouring South-east Asian countries like Burma.
After the founding of Bangkok as the capital of Siam in 1782, a diplomatic mission was sent to China once every three years. Along with tributes for the Emperor, the Siamese ambassador would carry  a royal letter written on gold called phra ratchasan suphannabat (literally 'royal letter on gold leaf'). The most important element of this letter was not necessarily its contents, because the writing itself was not understood by the recipients at the imperial court. The material of which the artefact was made was symbolic of its true value as gold not only signifies the wealth and power of the donor, but it honours the recipient.
We do not know very much about this particular artefact, but thanks to the archival records kept by the Siamese royal court, we are aware that golden letters of this type were engraved during a ritual hosted by the royal court. This ritual took place in a ceremonial hall of the royal palace at an auspicious time carefully calculated by the royal astrologers. A royal scribe folded the engraved golden plate, bound it with a red thread and put it in a metal casket inlaid with mother-of-pearl (Fig. 3), which was then taken to the ambassador's ships in an official procession. The ensuing journey lasted more than six months and took the letter across the sea to Guangzhou in southern China and eventually all the way to the Forbidden City in Beijing.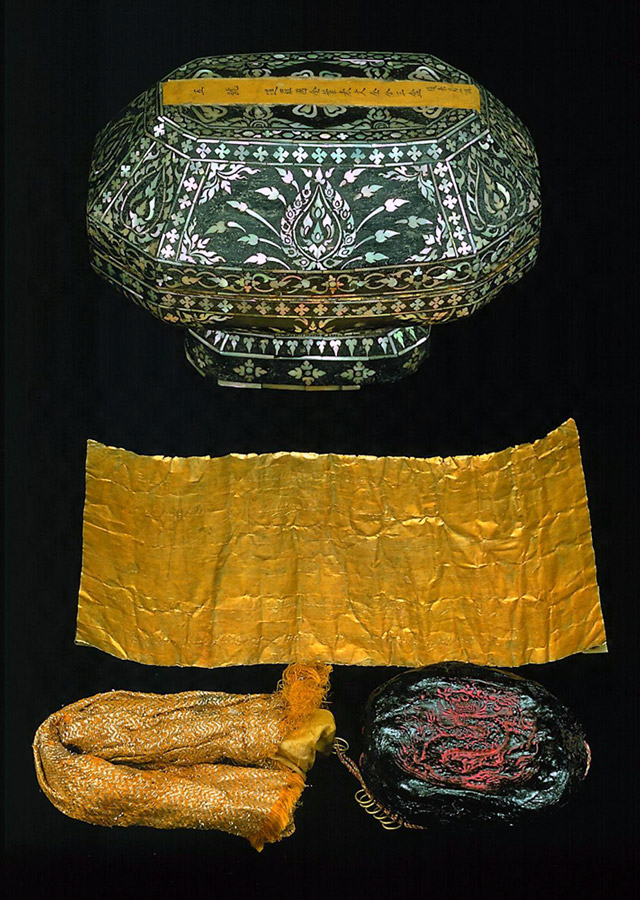 The golden letters were traditionally accompanied by a letter written in Chinese on paper (called kham hap in Thai). Although the text in Chinese letters of this kind largely corresponds to what is on the golden plate, it is often longer and provides more details, such as a list of gifts and tributes. According to records from the Qing court, many of these Chinese royal letters have been preserved, but the whereabouts of the one belonging to our golden artefact is unknown. These and other historical sources from the eighteenth and nineteenth centuries indicate that more than twenty golden-plate inscriptions were sent to the Qing Emperor in Beijing. Despite the fact that a number of Siamese golden-plate inscriptions were produced, very few of them are actually known to us now. The most likely explanation of their absence is that Chinese courtiers did not pay much attention to these symbolic gifts – after all, they were written in an unintelligible language – and they therefore melted them down. It is unclear how or when our golden-plate letter reached the National Palace Museum in Taiwan, but as the only known surviving artefact of this kind, it is a valuable piece of evidence of a long practised diplomatic tradition.  
Our golden letter may not have fulfilled its communicative purpose. It is more likely to have had a symbolic function in a diplomatic context, as knowledge of Siamese was uncommon in the Forbidden City, except among a small group of imperial translators. The letter's audience was obviously limited to a very small group of imperial courtiers, if not to the Emperor himself. Although it did not serve any discursive or communicative function, the diplomatic golden letter belonged to a group of written artefacts that were continuously produced in the Siamese royal court for many centuries, forming its own epigraphic genre in the Siamese writing tradition.
---
References
Fine Arts Department กรมศิลปากร (1978), Samphanthaphap rawang thai-cin สัมพันธภาพระหว่างไทย-จีน, Bangkok: Office of the National Archives, Fine Arts Department.

Kongkaew Weeraprachak ก่องแก้ว วีระประจักษ์ (1996), 'Carük phra ratchasan suphannabat' จารึกพระราชสาส์นสุพรรณบัฏ, Silpakorn Journal วารสารศิลปากร, 39/6: 13–23.

National Palace Museum (2012), Gold-leaf Tributary Document from Siam, <https://culture.teldap.tw/culture/index.php?option=com_content&view=article&id=1056> (Last accessed: 20.11.2022).

Ruppelt, Georg (2014), The Treasure of the Gottfried Wilhelm Leibniz Library in Hanover, Germany: The Golden Letter from King Alaungphaya of Myanmar to King Georg II of Great Britain, Hannover: Gottfried Wilhelm Leibniz Library.

Thissana Weerakietsoonthorn ธิษณา วีรเกียรติสุนทร (2016), 'Khwam samphan kap tang prathet' ความสัมพันธ์กับต่างประเทศ,  in Winai Pongsripian วินัย พงศ์ศรีเพียร (ed), Ayothaya si ram thep nakhòn bòwòn thawarawadi: mòradok khwam songcam haeng sayam prathet lem 1 อโยธยาศรีรามเทพนครบวรทวารวดี มรดกความทรงจำแห่ง สยามประเทศ เล่ม 1, Bangkok: Free Research Project on Thai History, 237–270.

Vliet, Jeremias van (1910), 'Translation of van Vliet's Description of the Kingdom of Siam', tr. L. F. van Ravenswaay, Journal of the Siam Society, 7/1: 1–108.
Description
Location: National Palace Museum, Taiwan
Shelfmark: Guge no 000064 (PURL: https://theme.npm.edu.tw/opendata/DigitImageSets.aspx?sNo=04001055&lang=2)
Material: golden plate with engraved writing
Dimensions: 28.5 × 16.3 cm
Provenance: 1822, Bangkok, Thailand
Copyrights
© National Palace Museum
Reference Note
Peera Panarut, A Diplomatic Letter that was rather not a Letter In: Wiebke Beyer, Karin Becker (eds): Artefact of the Month No 24, CSMC, Hamburg, https://www.csmc.uni-hamburg.de/publications/aom/024-en.html
About the author
Dr Peera Panarut is currently working as a researcher at the Centre for the Study of Manuscript Cultures (CSMC) at the Universität Hamburg where he is involved with the work of the Cluster of Excellence 'Understanding Written Artefacts'. His research interests and publications cover Thai manuscript studies, palaeography and epigraphy, as well as classical Thai poetry.