English version now available
Thus Speaks Tarām-Kūbi
20 June 2022
Photo: CNRS
How did people live in ancient Mesopotamia? 4000-year-old letters on clay tablets provide deep insights into their everyday existence. The multi-award-winning documentary 'Thus Speaks Tarām-Kūbi', which is now available in English, tells their story.
'Since your departure, a terrible famine took over the city of Aššur, and you had not thought to leave even a litre of barley. And what type of extravagance do you accuse me of having committed? There is absolutely nothing for us to eat, and you believe that we could somehow buy whatever we want on a whim?' Tarām-Kūbi does not seem to have been the kind of person who spares her husband bad news and accusations. The letters the she sent to him give a vivid account of living conditions in Aššur, then an important city in the north of present-day Iraq. Meanwhile, Tarām-Kūbi's husband was in Central Anatolia, 1,200 kilometres away, where he and other merchants were establishing a commercial settlement in the city of Kaneš.
At this location, which is today's Kültepe, archaeologists later found around 22,500 handwritten clay tablets that served Tarām-Kūbi and her contemporaries as writing supports. Among them are lists of merchandise, divorce certificates, acknowledgements of debts – and numerous letters that were sent between the merchants and their families at home across the desert on the backs of donkeys.
---
Trailer: Thus speaks Tarām-Kūbi - Assyrian Correspondence
---
Today, these letters provide unique insights into the lives of the ancient Mesopotamians. In particular, the letters of women like Tarām-Kūbi provide information about living conditions and social circumstances. While men primarily corresponded about business, women often wrote in a much more nuanced way about their experiences, hopes, and concerns.    
The periods of time that Innaya, Tarām-Kūbi's husband, spent away from home became longer and longer. Given the distance and the dangers of the journey, each reunion could be the last. 'This is of great importance! Once you have heard the contents of this letter, come, look towards Aššur, your god, and your home hearth so that I may see your eyes while I still live', Tarām-Kūbi once wrote to him. The multi-award-winning documentary 'Thus Speaks Tarām-Kūbi – Assyrian Correspondence', which was released in French in 2020 and is now available in English, reveals, among many other things, whether her wish came true. The film by Vanessa Tubiana-Brun (direction) and Cécile Michel (scientific direction) tells this story in a profound and captivating way, provides a broad picture of a past culture, and also shows how Assyriologists can reconstruct it.
You can watch the full film here. At CSMC, Cécile Michel is working, among other things, on the project 'Reading Closed Cuneiform Tablets Using High-Resolution Computed Tomography' together with the physicist Christian Schroer and the computer scientist Stephan Olbrich. In this interview, she talks about her multi-faceted work.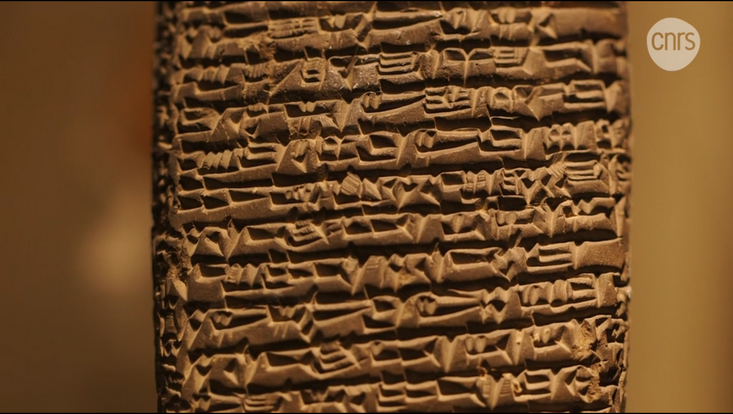 Awards and Honourable Mentions for 'Thus Speaks Tarām-Kūbi'
Audience Favorite Film Award & Honorable Mention for the Best Archaeology Film
Arkhaios Film Festival (Pittsburgh, South Carolina, Pennsylvania, USA)
Premio 'ArcheoVisiva' dalla giuria internazionale
Xth Rassegna del documentario e della comunicazione archeologica di Licodia Eubea (Italia)
Prix du meilleur film pour la recherche créative
17e Festival international du film d'archéologie de Bordeaux (ICRONOS)
Grand Prix Paul Tournal des Rencontres d'archéologie de la Narbonaise
Prix du meilleur film d'archéologie
Festival International du Film d'Archéologie de Nyon, Suisse
Mention spéciale du jury »Redonner la parole aux femmes«
16ème Festival du Film d'Archéologie d'Amiens
Award of the best screenplay, special mention for the Director, special mention for Public Choice and special mention of the Grand Prix
11th International Archaeological Film Festival »Ecumenical Community« AGON Athens