The Manuscripts
Kairouan, Tunisia, is one of the oldest Islamic cities in the world. Founded in 670 CE as a garrison town by ʿUqba b. Nafiʾ, it quickly grew in size and stature. In the ninth century, Kairouan was already home to important scholars of Islamic law, theology, Qurʾanic studies and other fields. By the time Cairo was built in 969, Kairouan was attracting students from as far away as Iraq and Spain.
The National Laboratory for the Preservation and Conservation of Parchment and Manuscripts (NLPCPM) in Raqqada, Kairouan, holds several manuscript collections, but the oldest of these is the legacy of the ancient teaching mosque in Tunisia's holiest city. Originally stored in the maqṣūra, an enclosed space near the front of the mosque, these artefacts are of unparalleled importance for understanding early Islamic history. To the best of our knowledge the NLPCPM holds the oldest near-intact collection of Islamic manuscripts in the world, containing 23 of the 30 Islamic literary manuscripts that can be confidently dated to 900 CE or earlier. 
These include a fragment of the Mudawwana by Sahnun b. Saʿid that was studied with the master himself in the year AH 235 (849-850 CE), five years before his death in 240/854. There are also two dated fragments on paper, centuries before this material was used in Europe, and many beautiful ancient Qurʾan manuscripts. 
A new inventory is being constructed, but altogether, the NLPCPM's collection appears to comprise
more than 40,000 disbound leaves from Qurʾanic manuscripts, both parchment and paper; 
more than 2,500 disbound leaves from non-Qurʾanic manuscripts, primarily parchment; 
some 179 loose manuscript bindings; 
about 2,200 paper manuscript codices; 
around 150 papyri.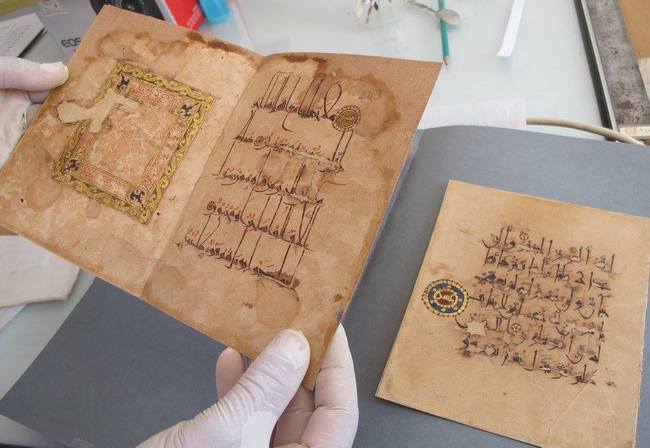 Text by Jonathan Brockopp