Working Group R: Ritual
Manuscripts in all their different manifestations invariably form an integral part of practices. Working Group R focuses on acts which constitute presence, meaning, social order or aesthetic relevance. A solid form and the necessity of repetition are equally characteristic of these types of acts, which in principle lends them a structuring function. In other words, Group R addresses the ritual, ceremonial and liturgical use of manuscripts. This perspective encompasses manuscripts in all their various facets – starting from the production process right through to how the manuscript is used and the point at which it is ultimately destroyed.
The approach of the group profits from the many productive discussions which have taken place in the field of ritual studies in recent decades. A particularly significant contribution is made by the results collected by the interdisciplinary Collaborative Research Centre "Ritual Dynamics" (SFB 619) at Heidelberg University. The objective in this context cannot be to contribute a separate theoretical concept to the discussion, nor a new definition. Rather, the added value of Working Group R lies in linking manuscript cultures and rituals in a systematic way for the very first time.
A01
Literary Manuscripts in a Ritual Context: Linked Poetry (renga) in Medieval Japan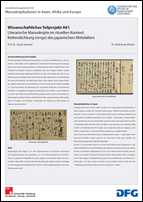 Linked poetry (renga) was one of the most popular literary genres in medieval Japan. Noting down the collaborative works by hand as they were being created orally was a procedure governed by precise rules and was an integral aspect of this kind of poetry along with the inclusion of the scribe's role. The aim of this project is to shed more light on these practices of manuscript production and the ritual context in which they were embedded. In order to achieve this, it is necessary to look into the way in which the practices developed over time, what conditions they arose in and what influenced them. Historically, the aspect of poetic contests at court needs to be taken into account. The proximity of renga poetry to the sphere of religious manuscript culture in the Middle Ages also requires clarification.
Principal Investigator: Jörg B. Quenzer
Research Associates: Heidi Buck-Albulet
A08
Anisong (Ānisaṃsa) Manuscripts from Luang Prabang (Laos) in a Comparative Perspective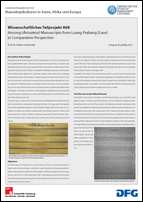 This project examines several manuscript corpora containing Buddhist texts of one of the most popular and widespread genres in the Thai-Lao world, namely preaching or homiletic texts known as Anisong. Usually written on palm leaf and generally quite short in nature, Anisong describe the rewards in terms of merit that a believer may expect from doing a particular pious deed. Anisong manuscripts have played a key role in Thai-Lao religious life for centuries, notably in transforming local customs into 'Buddhist' orthopraxy. They also reflect processes of modernisation in a lively and innovative manuscript culture.
Principal Investigator: Volker Grabowsky
Research Associate: Silpsupa Jaengsawang
A09
Structure, Indexing Systems and Liturgical Reading of Early Medieval Gospel Books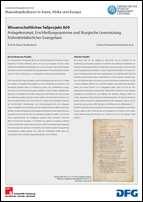 Gospel manuscripts are widely considered to be the most important books in medieval liturgy. They not only contain the Gospels as the Word of God that the priest read aloud during Mass, but also include a standardised corpus of paratexts. This project will examine how the physical characteristics of Gospel manuscripts were related to the usage of these books in liturgical reading, considering in particular the functions served by their paratexts and indices.
Principal Investigator: Bruno Reudenbach
Research Associate: Jochen Hermann Vennebusch
B03
Manuscript Culture and Chant Communities: Liturgical Books and Manuscripts of Music Containing Polyphonic Compilations of the Ordinarium missae in Cultural Practices c. 1200–1400 AD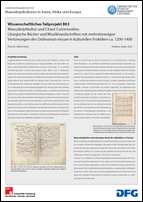 From the thirteenth century onwards, we can find an increasing number of polyphonic settings of the Ordinarium missae, both in liturgical books that were not intended to contain polyphonic music and in music manuscripts that were never meant to be used during the religious ritual of Holy Mass. The aim of this project is to examine such manuscripts used in a religious environment in terms of what functions they fulfilled and how knowledge about the performance of polyphonic music was notated and modernised by experts in the respective communities, which are now known as chant communities.
Principal Investigator: Oliver Huck
Research Associate: Andreas Janke
B09
The 'Painting' of Writing: The Iconicity of Writing and Word Pictures in Latin Psalter Manuscripts Used in Religious Rituals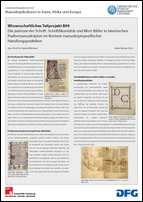 Using a series of psalter manuscripts dating from between the 8th and 15th century, this project examines the role played by the ornamental and pictorial rendering of writing and by so-called 'word pictures' in the ritual use of manuscripts. In the context of changing practices of manufacture and use, this analysis provides a new approach to these phenomena, which are characteristic of medieval European manuscript culture and transcend the classic dichotomy that exists between writing and pictures.
Principal Investigator: Hanna Wimmer
Research Associate: Karin Becker
C05
'Parchment Saints': The Making of Ethiopian Hagiographic Manuscripts – Matter and Devotion in Manuscript Practices in Medieval and Pre-modern Ethiopia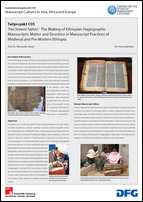 Developed from a late antique background, Ethiopian manuscripts that are part of local hagiography are attested from the fourteenth century onwards. The corpus of 'parchment saints' examined here has not been explored from the point of view of practices involving single and institutional figures. This research project focuses on the creation of hagiographic manuscripts as a foundational ritual act that established the cult of Ethiopian saints as canonical and also examines their role in context and in ritual practice.
Principal Investigator: Alessandro Bausi
Research Associate: Antonella Brita
C07
Arabo-Swahili Manuscripts in Practice: Rituals, Ceremonies, Liturgies and Healing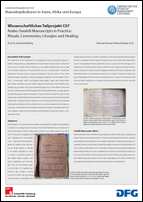 The aim of this project is to investigate the manuscriptological aspects of Swahili cultural practices, exemplified by a study of the Qasida Hamziyya, a panegyric poem translated from an Arabic original into Swahili in the 18th century, which forms a central part of the Swahili Islamic literary canon. A corpus of Arabo-Swahili Hamziyya manuscripts which were accessed by fieldwork in the first phase of C07 will be subjected to a multi-facetted functional analysis in order to understand their widely divergent properties in design and language arrangement and the way they are shaped by production for and usage in a variety of contexts such as rites de passage (birth, marriage, delivery, burial), healing and in religious ceremonies performed during Ramadhan and at Maulidi festivals.
Principal Investigator: Roland Kießling
Research Associate: Ahmed Hussein Ahmed Parkar