Working Group L: Learning
Working Group L focuses on manuscripts which all play a key role in the cultural practices of learning, teaching and conducting research and either directly or indirectly help to portray, explain, preserve, advance and disseminate various fields of knowledge, covering everything from basic instruction to practical knowledge and literary, philosophical and religious matters touched on in teaching. The social significance of a manuscript used for educational purposes is often visible from its appearance and from the traces which have been left behind by its users. In many cases, the layout chosen by the producer of the manuscript gives a clear indication as to its function for teaching and learning. If there is generous spacing between the lines and a broad margin has been left blank, for instance, this suggests that the reader is being invited to enrich the text with exegetical paratexts, glosses, variants, diagrams and so on in the course of working with the manuscript. These types of manuscripts are valuable testimonies to didactic and research activities and methodology in manuscript cultures and are generally the only tangible, physical pieces of evidence available to help researchers explore and reconstruct the activities of teaching and learning communities as well as the different kinds of literacy related to the process of educational instruction in such civilisations.
The Paratextual Field of Old Tamil Poetic and Learned Traditions:
Teaching Language and Literature: Tamil Manuscript Compendia on Grammar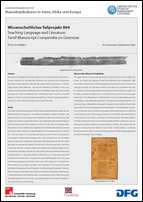 This research project on Tamil aims to examine a group of manuscripts containing excerpts from treatises on grammar in a broad sense, including not only syntax, morphology and phonetics, but also poetics, metre and rhetoric. This will allow us to understand the various contexts of teaching Tamil grammar more easily, this being a basic discipline first taught at primary level. The undertaking will acquaint students with the more formal levels of a highly diglossic language, not to mention the Tamils' literary heritage.
Principal Investigator: Eva Wilden
Research Associate: Suganya Anandakichenin
A05
Islamic Manuscripts with a Wide Spaced Layout as Mediators of Teaching Practices in West Africa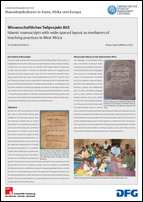 The West African Islamic manuscripts with wide space between the lines apparently point to teaching practices wherein extra space was planned for annotations. This project will explore possible correlations between the ample-space layout and textual genres in the Old Mande and Old Kanembu manuscript traditions and will investigate the questions of how teaching defined this specific layout and how these manuscripts mediated teaching practices.
Principal Investigator: Dmitry Bondarev
Research Associate: Darya Ogorodnikova
A11
The Leipzig Manuscript B. or. 227: Paratexts as witnesses of Islamic Ḥadīṯ scholarship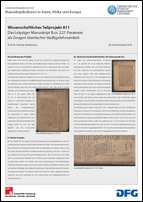 The Islamic traditions (ḥadīth), attributed to the prophet Muḥammad and his Companions, were first transmitted orally, later written down and finally compiled for major collections from the 8th and 9th centuries CE on. From here, ḥadīth sciences and commentaries evolved further. While the academic discipline of Islamic Studies has produced a number of studies on text transmission and teaching methods, it has dedicated only limited attention to ḥadīth commentaries. This sub-project investigates the concrete use of a ḥadīth manuscript in teaching practice and ḥadīthscholarship by studying a manuscript of the known collection of al-Bukhārī (d. 256/870), Jāmiʿ al-Ṣaḥīḥ. Due to its rich annotations and user entries (ijāzāt, samāʿāt, silsila), the Leipzig manuscript B. or. 227 (copied in 800/1398, most probably in Shiraz) is best suited for such a case study that aims at a comprehensive analysis of the material object, its users, and its commentaries.
Principal Investigator: Stefanie Brinkmann
Research Associate: Ali Zaherinezhad
C01
Esoteric Transmissions: The 'Vanaratna Codex' (Royal Asiatic Society, London, MS Hodgson 35)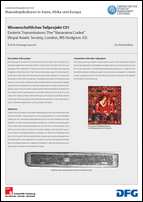 The project is a study of the production and history of a single manuscript, Royal Asiatic Society, London, MS Hodgson 35, which has been shown to be an autograph of the famous 15th century Buddhist scholar Vanaratna. It contains, in its second part, mainly material translated by Vanaratna into Sanskrit from esoteric teachings received in Tibet and in Tibetan, as well as some verses of his own composition. This offers a unique window into the working methods of a learned Buddhist scholar, and into cross-cultural transmission of esoteric material.
Principal Investigator: Harunaga Isaacson
Research Associate: Martin Delhey
C04
Buyruk Manuscripts in Alevism: Multiple-text Manuscripts as Bearers and Transmitters of Religious Knowledge at the Interface of Literacy and Oral Culture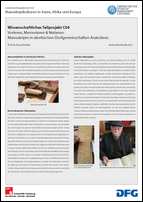 This project focuses on the manuscript culture that existed in Alevi village communities in Turkey, among which the level of literacy was still low up to the middle of the 20th century. Fourteen private collections of manuscripts will be scrutinised in order to examine the use of manuscripts in learning and teaching mainly of a religious character. The history, compilation and context of the collections will be investigated as sources for studying the use of these manuscripts in cultural practices. Questions to be addressed are: who wrote or used certain manuscripts, how did the various collections help to retain and impart knowledge, did their practical usage, e.g. reading them aloud, memorising them and making notes about them, had an effect on their subject matter or appearance, and if so, what kind of effect.
Principal Investigator: Raoul Motika
Research Associate: Janina Karolewski
C06
Ancient Greek Manuscripts on Aristotle's Works Used in Teaching and Their Interpretation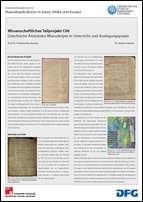 Codices of Aristotle's Organon, a work of fundamental importance in training students' intellect, are particularly suitable for researching the role that manuscripts once played in the classroom. These manuscripts contain highly com­plex layers of annotations attesting to a dialogue between teachers and their pupils and sometimes even connecting them to each other at different times and places. This project will use selected ma­nuscripts from Posterior Analytics to examine the layers of commentary and explanatory anno­tations in detail and to determine what function they had as part of classroom social practice and scholarly exegetical dialogue.
Principal Investigator: Christian Brockmann
Research Associate: Stefano Valente
C08
East Frankish Manuscripts Containing Collections of Formulae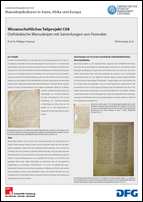 This project will investigate manuscripts written in the eastern regions of the Frankish Empire during the 9th and 10th century which contain collections of formulae, i.e. sample letters and charters. Manuscripts of this kind are of great importance in understanding the culture of this period as they give us insights into the way in which scholars wanted to organise their knowledge and pass it on to others in the early Middle Ages. The aim of the project is to examine such manuscripts by treating them as textual evidence of monastic culture and investigating how they arose, what they contain and how they were used.
Principal Investigator: Philippe Depreux
Research Associate: Till Hennings
C11
Private Archives as a Source of Literacy in Old Assyrian Society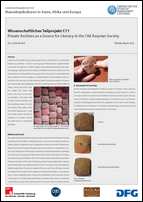 Cuneiform clay manuscripts are 3D objects on which signs appear as negative imprints. Thousands of school tablets from Nippur dated to the 18th century BCE have enabled assyriologists to reconstruct the curriculum of scribal education, which looked quite academic. School texts found in the archives of Assyrian merchants who settled in Central Anatolia (19th cent.) bear witness to on-the-job training. In fact, it has been suggested that, besides professional scribes, many Assyrian men and a number of women would have learnt the basics of writing at home.
Such an assumption can only be confirmed by systematic paleographical and scribal studies and by the analysis of text layout and the typology of tablets in specific private archives that have recently been excavated.
Principal Investigator: Cécile Michel
Research Associate: Wiebke Beyer