Projekt Area A: Paratexts
Project area A examines textual forms that exhibit physical and/or content-related dependencies on a main text. The relationship between paratext and the main text is a variable one: dependent elements can be integrated as part of the main text in the course of its life, while individual elements of the main piece of writing can become paratexts. As a written medium, manuscripts favour such flexible divisions and inclusions, particularly the process of transmission by copying. The project area therefore investigates reciprocity of this kind particularly in relation to the characteristics of specific manuscript cultures.
In a systematic way, three basic functions in terms of organising knowledge in manuscripts may be identified: a) when used as a means of establishing a sense of order, paratexts enable texts to be structured in line with different ideas and needs, b) in the form of commentary, they supplement or refine the subject matter described in the main text, and c) they document or regulate the knowledge imparted in manuscripts and the way in which the material support is dealt with. In addition to these points, a series of cultural and historical aspects are of interest that can be examined with the aid of paratexts, such as media differentiation, communication in knowledge traditions, and questions concerning the restriction of knowledge. The sub-projects that investigate these phenomena focus on different aspects of them as well as being linked to parallel questions addressed by the other project areas.
A01
Literary Manuscripts in a Ritual Context: Linked Poetry (renga) in Medieval Japan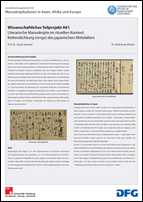 Linked poetry (renga) was one of the most popular literary genres in medieval Japan. Noting down the collaborative works by hand as they were being created orally was a procedure governed by precise rules and was an integral aspect of this kind of poetry along with the inclusion of the scribe's role. The aim of this project is to shed more light on these practices of manuscript production and the ritual context in which they were embedded. In order to achieve this, it is necessary to look into the way in which the practices developed over time, what conditions they arose in and what influenced them. Historically, the aspect of poetic contests at court needs to be taken into account. The proximity of renga poetry to the sphere of religious manuscript culture in the Middle Ages also requires clarification.
Principal Investigator: Jörg B. Quenzer
Research Associates: Heidi Buck-Albulet
A04
Teaching Language and Literature: Tamil Manuscript Compendia on Grammar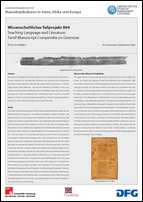 This research project on Tamil aims to examine a group of manuscripts containing excerpts from treatises on grammar in a broad sense, including not only syntax, morphology and phonetics, but also poetics, metre and rhetoric. This will allow us to understand the various contexts of teaching Tamil grammar more easily, this being a basic discipline first taught at primary level. The undertaking will acquaint students with the more formal levels of a highly diglossic language, not to mention the Tamils' literary heritage.
Principal Investigator: Eva Wilden
Research Associates: Giovanni Ciotti (2015-2017) and  Suganya Anandakichenin (2017-2020)
A05
Islamic Manuscripts with a Wide Spaced Layout as Mediators of Teaching Practices in West Africa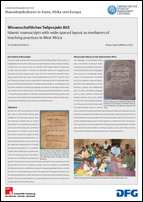 The West African Islamic manuscripts with wide space between the lines apparently point to teaching practices wherein extra space was planned for annotations. This project will explore possible correlations between the ample-space layout and textual genres in the Old Mande and Old Kanembu manuscript traditions and will investigate the questions of how teaching defined this specific layout and how these manuscripts mediated teaching practices.
Principal Investigator: Dmitry Bondarev
Research Associate: Darya Ogorodnikova
A06
The Changing Praxis of the 19th-century Malay Manuscript Economy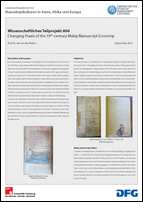 The advent of lithographic printing and the ongoing monetization of the indigenous society in the Malay world in the course of the 19th century had profound implications for the manuscript culture and the attitude of people towards manuscripts, their production and consumption. This research continues to map and investigate such changes by mining paratexts found in the manuscripts of a 19th-century lending library collection. It is hypothesized that manuscripts spawned new interactive networks of human agents and affected the reading habits of the recipients, thereby crossing ethnic and religious boundaries in a colonial cosmopolitan context.
Principal Investigator: Jan van der Putten
Research Associate: Siti Nurliyana Binte Taha
A08
Anisong (Ānisaṃsa) Manuscripts from Luang Prabang (Laos) in a Comparative Perspective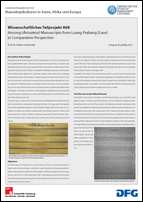 This project examines several manuscript corpora containing Buddhist texts of one of the most popular and widespread genres in the Thai-Lao world, namely preaching or homiletic texts known as Anisong. Usually written on palm leaf and generally quite short in nature, Anisong describe the rewards in terms of merit that a believer may expect from doing a particular pious deed. Anisong manuscripts have played a key role in Thai-Lao religious life for centuries, notably in transforming local customs into 'Buddhist' orthopraxy. They also reflect processes of modernisation in a lively and innovative manuscript culture.
Principal Investigator: Volker Grabowsky
Research Associate: Silpsupa Jaengsawang
A09
Structure, Indexing Systems and Liturgical Reading of Early Medieval Gospel Books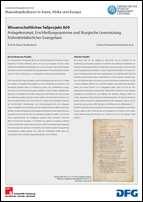 Gospel manuscripts are widely considered to be the most important books in medieval liturgy. They not only contain the Gospels as the Word of God that the priest read aloud during Mass, but also include a standardised corpus of paratexts. This project will examine how the physical characteristics of Gospel manuscripts were related to the usage of these books in liturgical reading, considering in particular the functions served by their paratexts and indices.
Principal Investigator: Bruno Reudenbach
Research Associate: Jochen Hermann Vennebusch
A11
The Leipzig Manuscript B. or. 227: Paratexts as witnesses of Islamic Ḥadīṯ scholarship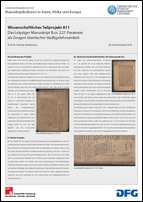 The Islamic traditions (ḥadīth), attributed to the prophet Muḥammad and his Companions, were first transmitted orally, later written down and finally compiled for major collections from the 8th and 9th centuries CE on. From here, ḥadīth sciences and commentaries evolved further. While the academic discipline of Islamic Studies has produced a number of studies on text transmission and teaching methods, it has dedicated only limited attention to ḥadīth commentaries. This sub-project investigates the concrete use of a ḥadīth manuscript in teaching practice and ḥadīthscholarship by studying a manuscript of the known collection of al-Bukhārī (d. 256/870), Jāmiʿ al-Ṣaḥīḥ. Due to its rich annotations and user entries (ijāzāt, samāʿāt, silsila), the Leipzig manuscript B. or. 227 (copied in 800/1398, most probably in Shiraz) is best suited for such a case study that aims at a comprehensive analysis of the material object, its users, and its commentaries.
Principal Investigator: Stefanie Brinkmann
Research Associate: Ali Zaherinezhad