16 January 2023
Researchers, especially if they work with cultural heritage objects, often face situations that require their moral rather than their scientific judgement. Cécile Michel explains how the Ethics Working Group and Committee can provide help – and when researchers have to take responsibility themselves
Lesen Sie hier die deutsche Version dieses Artikels.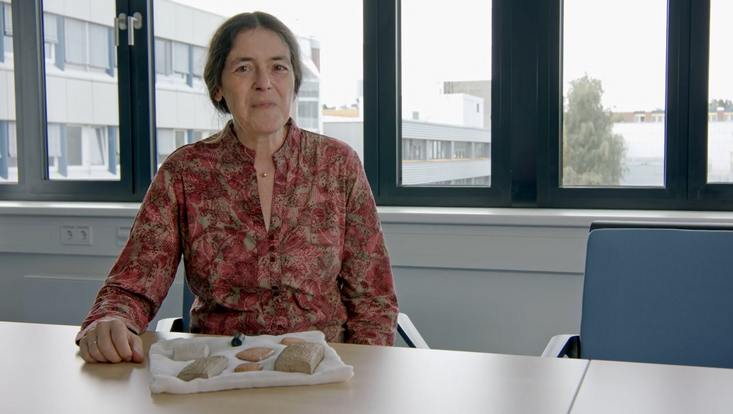 Cécile Michel is familiar with this by now. She regularly receives requests from people who own one of the objects she knows so much about: Mesopotamian cuneiform tablets. Could she not be so kind as to translate the text? The curiosity, one may assume, goes both ways: the owners naturally want to know what document from the distant past has come into their hands. A business contract? A personal letter? And for Michel, who has devoted much of her career to ancient Mesopotamian culture, such written artefacts are the most important sources.
Nevertheless, she declines many of these requests. The reason is that she often gets an alarming response to her first enquiry: how did you come by this clay tablet? 'Often they say that they recently bought it on Ebay. In fact, many such objects are offered for sale there. And not infrequently they are stolen goods', says Michel.
*
Unfortunately, not everyone appreciates cuneiform tablets for their cultural significance or their value for research. During the last decades – especially in the aftermath of the Gulf Wars, the civil wars in Syria and Libya, and the advance of the so-called 'Islamic State' – countless objects were looted and sold for significant amounts of money. In some cases, this black market for antiquities helps funding terrorist organisations. Eventually, many of the pieces end up in the hands of private individuals who are often unaware of these sinister circumstances. For this reason, Michel argues, researchers are obliged to educate people and make buyers of antiquities realise that their actions are problematic. She herself does not want to take any scientific advantage of illegally traded objects, and neither researches nor publishes on unprovenanced clay tablets.
In the last 20 years, the trade in looted antiquities has flourished. Researchers must take a stance.
For some years now, researchers – especially in archaeology, but also in many other disciplines – have been struggling with the question of how to deal with artefacts of suspicious or undocumented origin. On the one hand, there is the potential knowledge that research into these objects might yield; knowledge that, due to the uniqueness of the pieces, cannot be acquired any other way. To obtain this knowledge, however, researchers must incur the risk of making themselves complicit with a market that benefits, of all people, those who pose one of the greatest threats to the preservation of cultural heritage today: looters and terrorists like the followers of 'ISIS'.
For a long time, there was little awareness of this potential dilemma within the scientific community. People did research on whatever material was available without asking many questions about the whereabouts. Over the last 20 years, in which the trade in looted antiquities has flourished, this nonchalant attitude has become inviable. In response, various researchers and scientific institutions have adopted a very restrictive attitude. In 2004, for example, the Archaeological Institute of America (AIA) announced that its American Journal of Archaeology would no longer publish articles on unprovenanced objects acquired after 30 December 1970. On that day, the UN General Assembly adopted the 'Convention on the Means of Prohibiting and Preventing the Illicit Import, Export and Transfer of Ownership of Cultural Property' – the first time that standards for the acquisition of cultural property were formulated at the international level. In the scientific community, the view that unprovenanced objects should no longer be used for research became predominant then. In some cases, serious moral accusations were levelled against anyone who did not subscribe to this view.
The backlash followed soon. The renowned archaeologist and Assyriologist David I. Owen, for instance, equated measures such as those of the AIA with censorship and lamented the enormous loss of knowledge that would result from refusing to publish research on unprovenanced objects. The primary task of scientists, according to this line of argument, is to record, preserve, and disseminate knowledge. Nobody would be helped if valuable objects and the information they contain were to disappear into private collections.
In sum, the debate has all the characteristics that are typical of moral disputes: a complex subject matter, strong opinions, and deep disagreement.
What matters is that we raise awareness among as many colleagues as possible that our work has an ethical dimension.
Under these circumstances, it is important not to leave alone researchers who want to act ethically but cannot assess all relevant aspects themselves, but to provide them with guidelines. At CSMC, this is precisely what the Ethics Working Group, which is chaired by Cécile Michel, is meant to do. In late 2022, the group published its recommendations on 'Ethical and Responsible Research at CSMC', which they had been working on intensely for over a year. While also including recommendations on how to deal with unprovenanced objects, the guide attempts to do justice to the far more diverse requirements facing researchers who deal with cultural heritage objects. Among other things, these also regard the correct behaviour in countries with very different legal systems and social norms, the acknowledgement of hidden workers, public appearances, and importantly also the treatment of research data.
Made up of scholars and scientists from different disciplines, the aim of the Ethics Working Group and the guidelines it has published is not to patronise researchers or give them clearly defined instructions for action. Rather, it is intended to make them aware of the complex ethical dimension of their work and to support them in making responsible decisions. While acting within the laws, Cécile Michel emphasises, the final judgement is always incumbent upon the respective researcher.
In addition to the Ethics Working Group, CSMC has also established an Ethics Committee, which is much smaller – besides Cécile Michel, it consists of the linguist Jost Gippert and the computer scientist Ralf Möller. Its task is to give advice to members of CSMC in specific cases. Unlike the working group, which meets regularly, the committee only meets upon request. Since its inauguration, it has been consulted five times so far. The committee then tries to gather as many relevant facts as possible and makes a recommendation. In most cases, the questions concerned the prevalent issue of written artefacts of dubious origin.
*
While Cécile Michel has decided not to work with unprovenanced objects, she knows too well how complicated each individual case can be. Therefore, she does not judge any colleague who decides otherwise. 'It is important to realise that there can be good arguments both for and against publication. It would be hypocritical to condemn everyone who decides to publish because once the publications are out, everyone works with them. What matters is that we raise awareness among as many colleagues as possible that our work has an ethical dimension.' Every researcher, especially when dealing with cultural heritage objects, should at least be able to ask the right questions. It remains an intricate task, one that cannot be taken away from the individual, to find the right answers.