5 Questions to...
Olivier Bonnerot
5 August 2022
In our series '5 Questions to…', members of CSMC chat about their background, what motivates them, and their favourite written artefacts. This time, we talk to Olivier Bonnerot, who gets as excited about chemistry as he does about Greek myths and thus found the perfect area to work in: archaeometry.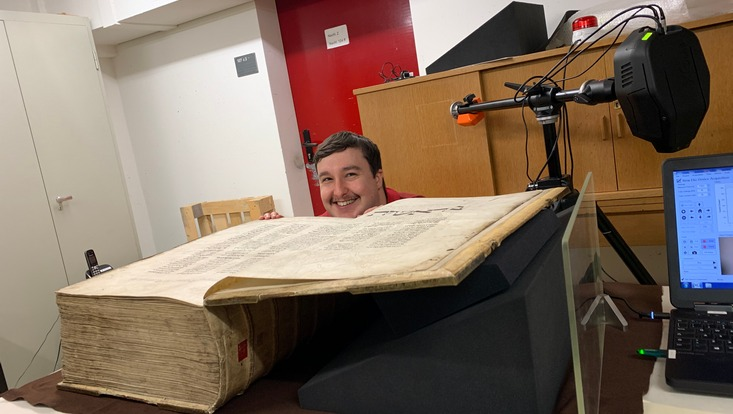 Olivier Bonnerot, please tell us a little about yourself.
My studies followed the usual path for studying Engineering in France. It started with a 'classe préparatoire' in Lyon, where I attended intensive courses in mathematics, physics, and chemistry. I then entered Chimie ParisTech, a French 'Grande École' (a highly selective specialised university), where I did a MSc in analytical chemistry in addition to a general Master of Engineering in chemistry. Internships are an integral part of the curriculum. This gave me the opportunity to gain experience in the field of archaeometry, which is the application of the natural sciences to archaeology. For instance, I analysed different archaeological materials at the C2RMF (Centre de recherche et de restauration des Musées de France, Musée du Louvre), the Science Department of the British Museum, and at the CRCC (Centre de Recherche sur la Conservation des Collections, Muséum national d'Histoire naturelle).
During these internships, I truly enjoyed applying the analytical techniques I had learnt to archaeological objects, so I was determined to continue working in this field. I developed my passion even further during my PhD at the University of Cyprus, which was on the analysis of materials from early Byzantine Cypriot mosaics. After my PhD in 2016, I joined the team of Professor Oliver Hahn and Professor Ira Rabin at BAM, and so I became part of the project on 'Material-Scientific Methods for Reconstructing the History of Manuscripts' at CSMC. This also allowed me to get to know many of the fascinating research topics of other scholars at the Centre. What I enjoy most is to learn new things and discover new cultures – and CSMC is the perfect place for that. In 2019, I joined the Cluster of Excellence 'Understanding Written Artefacts', where I deepened my expertise in the field while being involved in the long-term project 'History of Writing: Black Inks and Writing Surfaces'. Finally, in June 2022, I got the opportunity to become the Principal Investigator of my own project.
The developments of the Greek language and iron-gall inks may be connected.
What are you currently working on?
My project is entitled 'From carbon to iron: Evolution of Greek inks from Hellenistic times to Late Antiquity' and investigates Greek inks from the Hellenistic to the early Byzantine period. The oldest preserved documents are written with carbon inks, which are made by mixing soot, some kind of binder, and water. Iron-gall inks, which are based on the reaction between tannins and iron ions and a binder in an aqueous solution, first appeared during Antiquity and then supplanted carbon inks in the Western world during the Middle Ages. The exact moment when iron-gall inks started appearing remains unknown and their development seems to have lasted for some time. Recent research has pointed out that the Hellenistic and Roman times were crucial in this respect, and that the developments of the Greek language and iron-gall inks may even be connected. By studying some securely dated and located documents systematically, I want to further investigate the birth and evolution of such inks; a particular focus will be on bilingual documents.
In addition, I provide material analyses of inks and pigments to support or complement the research of several colleagues at the Cluster. This allows me to discover other fascinating cultures and provides me with interesting insights into the technology behind inks and pigment from various places and times. The projects I am currently participating in range from analysing inks from Indian palm-leaf manuscripts from the 18th and 19th centuries; identifying and comparing pigments from small Nepalese paintings called 'Tsakalis'; comparing inks from different Late Byzantine manuscripts; and comparing the inks from diverse Carolingian charters.
You started studying at an engineering school that specialises in chemical science, later you did a PhD in Mediterranean Archaeology. When did you first get interested in applying your technical knowledge to questions in cultural history?
As a kid, I was already deeply interested in the history and cultures of the Antique world. I think my taste for antique civilisations comes from my parents and particularly my mother, who was teaching classics. She used to tell my stories about Greek myths, and I could never get enough! At school, I also developed a taste for sciences, in particular mathematics and chemistry. I tried to pursue both passions as much as possible during my studies, for example by doing courses in Ancient Greek while following the scientific cursus of the French secondary school. I think my plan to study chemistry and then to apply it to questions in cultural history was more or less already set when I was 14 or 15. For example, for my Baccalauréat (the French equivalent of the British 'A-levels' or the German 'Abitur'), I did a small project on what the Ancient Egyptians needed to know about mathematics and physics to build the pyramids. My first real hands-on experience in the field of archaeometry was during my internship at C2RMF, though. There, I prepared thin sections of ceramics from the Nasrid dynasty (a dynasty of Islamic rulers from Spain) and participated in their analysis with polarised microscopy, SEM-EDS and PIXE.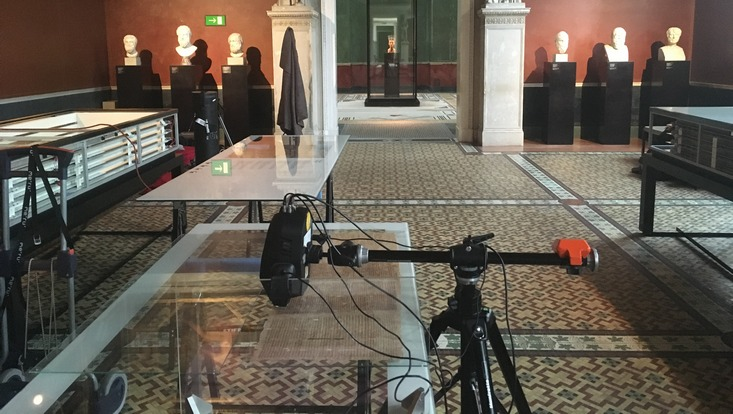 Let's assume money did not matter – what research project would you like to pursue if you had unlimited time and funding, and why?
If time and funding were unlimited, I would probably not only have one but many research projects! One of the first things I would pursue would probably be related to the Meroitic culture, which thrived in ancient Nubia. Between the 4th century BC and the 5th century AD, this region spread across an area in what is now North Sudan and South Egypt. It was much influenced by its northern Egyptian neighbour but also developed its own peculiarities. Its language is currently being deciphered, which I find very exciting. I would like to investigate the technology they used to produce pigments and inks and see how it relates to or differs from its Egyptian counterparts.
Do you have a favourite written artefact? What is it, and what makes it so special to you?
This is a very difficult question! During my internships, PhD, and of course during my time at BAM and CSMC, I have been dealing with so many fascinating written artefacts on all kind of supports! I discovered artefacts as diverse as palm leaf manuscripts, birch bark manuscripts, cuneiform clay tablets, exquisitely decorated miniature Qurans, impressively huge Bible codices and scrolls… If I had to choose one though, I think it would be the alchemic papyrus of Leyden (Leyden papyrus X), a papyrus codex written in Greek from the 3rd century, which contains a compilation of alchemical recipes for purifying metals, making alloys, and making golden inks. It also contains a very intriguing recipe of a black ink. It is a very important document for the history of chemistry and has been a longstanding source of fascination for many  many chemists and historians, in particular the French chemist Marcellin Berthelot, who wrote one of its first translations. I think this papyrus is a good symbol of the different passions which drive my work.