Women in Manuscript Cultures Lecture: Julia Bruch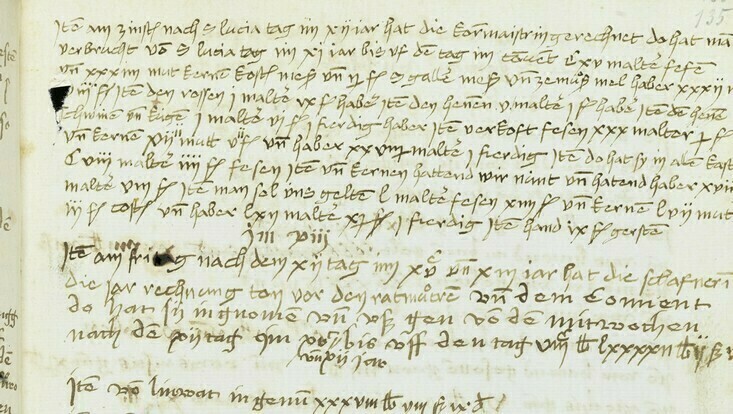 Foto: Wil, Dominikanerinnenkloster St. Katharina / Chronik ("Konventsbuch") – Chronik ("Konventsbuch")/ f. 135r
When: Thu, 07.12.2023 6:15 PM until 8:00 PM
Where: Warburgstraße 26, 20354 Hamburg
Writing Women. Gender and Class in 15th- and 16th-Century German-Language Songs, Chronicles and Convent Books
PD Dr Julia Bruch (Universität zu Köln)
Julia Bruch currently holds the guest professorship 'Women in Manuscript Cultures' at the Cluster of Excellence 'Understanding Written Artefacts'.
The paper deals with urban manuscripts written by women in German-speaking cities in the 15th and 16th centuries. The main objective of this study is to identify possible differences between these manuscripts and those written by men, paying particular attention to aspects such as writing style, social affiliation, and cultural influences. While the social milieu of the writer is recognized as an important factor, other variables related to the broader social context, such as language, access to writing materials, and the purpose of writing, also influence the characteristics of these manuscripts.
This research extends from a previously examined female brewer's chronicle as its foundational work and aims to broaden its scope to encompass a more extensive range of manuscripts created by women from various social strata, including artisans, merchants, patricians, and nuns. The objective is to ascertain whether women indeed cultivated distinctive manuscript designs or shared manuscript traditions with men within their respective social circles, potentially offering valuable insights into the identification of scribes in anonymous manuscripts.
Contact
Centre for the Study of Manuscript Cultures
Further information